On December 27th we received a laptop recommendation request for a business laptop with a 15-inch screen under $500. The person wants good screen & sound quality, portability and performance.
What's the more important feature(s)?
Screen Quality
Portability & Weight
Sound
Performance
Main usage?
General (web surfing, office work, emails)
Business
Preferred Screen Size?
15″
Tell us your budget
$300 to $399
$400 to $499
Our Laptop Recommendation
Hi [anonymous],
As requested I've look at the 15-inch business laptops under $500 with a good screen & sound quality that delivers performance and the best portability possible.
Under 500 dollars, there is no 'real' business laptops (at least none that are worth it). By that I mean laptops made sturdier than the average. They start at $600 – $700.
If I had to choose a laptop for a business laptop in your price range with a 15-inch screen, I would go with the HP ay-15. It's a well-rounded laptop with quite good built quality that delivers a lot of value for the price.
Performance will be more than enough for most business settings with its i5 processor and 8 GB of RAM. (Except if you need to do any 3D gaming development, high-end graphic or CAD design. In that case I would go with the Acer E5-575G).
The screen is HD – 1920 x 1080 – and quite good for the price range, as is the sound. It's also quite portable at 4.7 pounds. It's priced around $450 and pretty much the best value you can get in that price range.
You have two choices, depending on how much hard drive space you need. If you need a lot of storage space, go with the HP 15-ay011nr and its 500 GB hard drive. If the size of the hard drive is not a big factor – let's say you are using online storage efficiently – I would go with the HP 15-ay013nr and its 128 GB hard drive. It's going to make the laptop much faster.
With that laptop, you get a quality slick silver body in a laptop that will deliver performance. You can read the full review of this laptop here for more information.
Do not hesitate to write back if you have any more questions or need more help!
Erik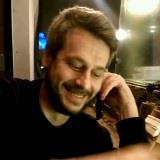 Erik is the owner and main editor of lptps.com. He has been working in computers and information technology for more than 20 years. He's a business analyst, developer, and avid traveler.