I received this different recommendation request from someone in Bhutan this week. It's an interesting request for a laptop needed for working with hydrology models, satellite imagery and climate projection. Interesting, let's see the request:
The Laptop Recommendation Request
Which country are you from?
Bhutan
Main usage?
General (web surfing, office work, emails)
3D modeling, High-Res Movie Editing, CAD
What's the more important feature(s)?
Portability & Weight
Performance
Durability (strong)
Preferred Screen Size?
13″
14″
Tell us your budget
$900 to $1200
Anything to add?
I will be mostly working hydrology models and satellite data (images) for watershed management and flood risks. Besides I also work with climate models for climate projection.
If we publish your question and our recommendation, do you wish to remain anonymous? (we will never publish your email)
Yes (by Anonymous)
My Laptop Recommendation
Hi [Anonymous],
You have a really interesting request here and pretty different from what I usually get!
For all this you need a pretty powerful computer, otherwise you risk having a very slow rendering process. For the kind of mathematical models, image rendering and manipulations you'll work with, I strongly recommend an i7 processor with at least 8 GB of RAM and with a dedicated graphic card.
Here are my recommendations according to your request:
My first choice would definitively be the Asus ZenBook UX303UB. It's a powerful and portable 13.3″ laptop with 12 GB of RAM – that won't be too much for you – and a GeForce graphic card
My second would be the powerful Lenovo 510s with a 14-inch screen. It's a bit heavier due to the 14″ screen and a little less powerful (less RAM and graphic card a bit less powerful too) but it's also a great machine.
Otherwise, in your price range and with 13 or 14-inch, there's not much choice. You'd have to go for a 15-inch or increase your price range a little. But those two are definitively great choices and you won't be disappointed.
I hope that helps!
Erik
*Note: the information is provided as-is and LPTPS.com is not responsible for any inaccurate information or loss which may arise from reliance on information contained here. For more information please consult our disclaimer.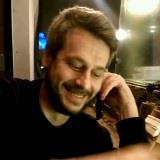 Erik is the owner and main editor of lptps.com. He has been working in computers and information technology for more than 20 years. He's a business analyst, developer and avid traveler.