We've come a long way in laptop speaker and with so many different options out there, it is not always easy to figure out what are the best speakers for laptop.
There are over 1000 models of speakers for laptops in the market today. That is a ton of options to choose from and can be really very confusing for most of us.
In this article, I've decided to focus on the ones that sound as good as the speakers you would want on your laptop. I made this list based on my personal opinion and hours of research and I've listed them based on their- sound quality, portability, design, features, connectivity & price.
Whether you are an employee looking for a speaker or a gamer looking to enhance your gaming experience or just a binge-watcher wanting to get the best sound quality of the shows you're watching, in this article I've included options for every type of consumer, so read it till the end and I'm sure you'll find the best speakers for your laptop.
Our Top 3
What to expect from the best speakers for laptop?
When looking for the best laptop speaker, you should keep in mind these few things.
They should have a very easy way to connect to your laptop and be simple to control.
They also need to sound great with music and not tire us out if we play them for 4 to 6 hours continuously. We want them to be able to fit pretty easily on our desk.
If you are looking for the best gaming laptop speaker then you should note that the speaker should have loud, clear & bassy sound to bring realism in your gaming experience.
Some of the speakers mentioned are loud, rugged & portable, hence making them travel friendly.
Connectivity
If connectivity is through USB cable, then the length of the cable should be long enough, for you to be able to set it up at some distance from your laptop, freeing some space for additional implements like a hard drive.
Otherwise, you can always go for a Bluetooth speaker, as most of the speakers now offer Bluetooth connectivity.
Sound Quality
One of the main reasons behind you wanting to buy a speaker for the laptop is to get better sound quality. Sometimes you are surprised by a speaker simply by the quality of the sound and how much it puts out.
So the speaker you buy should offer Loud & crispy sound with a good amount of bass, which will enhance your overall experience. They should also be able to play at nearly full volume without distorting and if needed, they should also be able to entertain a small gathering.
So expect a sound system that is clear and quite loud. From some of them you can also expect a lot of basses and the best sound in the market, it should be more than enough to enjoy the latest movies, albums & games.
Looks
These speakers should enhance the overall look of your setup and make it look more attractive. But if you want a simple and cleaner look, then they should also be able to blend with your setup and give that clean look to your setup.
Controls
The controls on the speaker should be basic, making it less complicated & easy to use.
Okay so let's get started with the list.
Specs for the Top 6 Best Speakers for Laptop
Top 6 Best Speakers for Laptop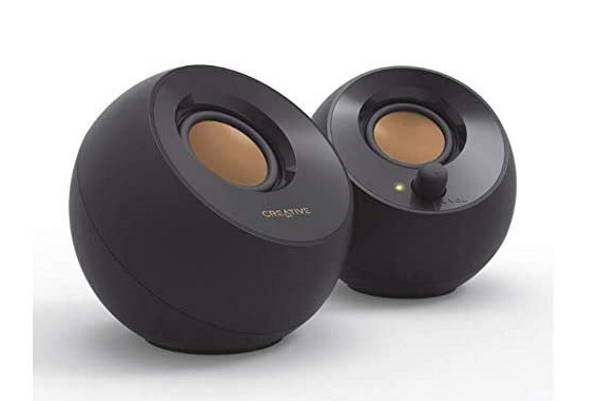 "Low cost, space-saving & powerful audio"
You must have heard that the quality and cost of the product are directly proportional to each other. So if you want good-quality speakers, you have to spend more. But "Creative" has brought a solution for this problem with their "Creative Pebble 2.0 USB powered Desktop speakers". So if you are looking for speakers that have good design, clear & crispy sound, and will serve all your purposes and are still very cheap then remember this name.
They have 45° Elevated Sound Stage, are USB Powered, have Volume Control Knob on the front, a 4.4W RMS Power Output & have Passive Radiators on the back which can deliver a little bit of extra punch in terms of bass. It also has an integrated 3.5mm Audio Input Jack and has a compact, orb-Shaped, classic Design.
These speakers are well balanced & low-budget speakers. They provide an incredible amount of clarity at their softest (which is much quieter than other speakers at this price point) and loudest. The bass is perfect and the speaker sounds marvelous at close proximity.
But due to its low price, the speakers sound much more treble at a distance and are therefore oriented to serve only one pair of ears sitting near the source.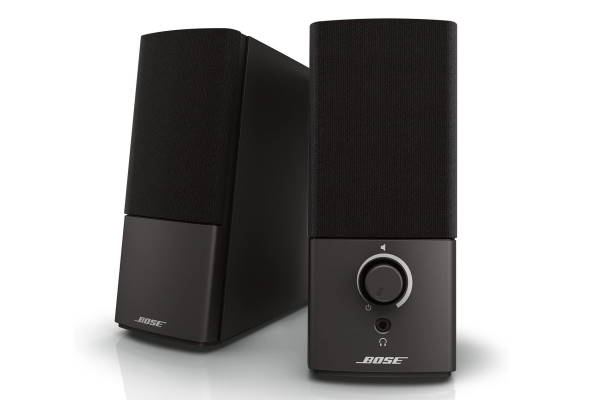 "Mid-range & good value"
Do you like playing music, games, and videos on your laptop, then Bose Companion 2 Series III is the best laptop speakers for you.
The Bose is notorious for creating some really outstanding speakers and with these speakers, you can get the best brand speakers in your budget. These speakers give a Matt black color and have a fabric-like cover for the speakers instead of metal. The speakers have wired connectivity & audio wattage of 20 Watts. It has AUX input & Headphone jack (Output). In the box, you get a Powered speaker, Accessory speaker, Audio input cable with mini-plug, Speaker cable & AC power pack.
Even though it is a 2 speaker design, I'll be quite honest, the right speaker is really where the majority of the action is going on as it possesses the headphone jack (which is always a welcome addition to any speaker in my mind) and the volume control which actually feels pretty smooth.
Considering the small size, and the fact that there is no separate subwoofer, the sound coming from these speakers is very impressive. They blow away other competitors from a different brand, that do have a separate subwoofer. Other speakers around its price range sound muddy compared to the richness and clarity of these Bose speakers.
But it lacks in the control department as it has controls for only volume adjustment. It has no bass control or tremble control anywhere on either speaker. So if you want to adjust sound, you better have an EQ controller in whatever device you decide to hookup.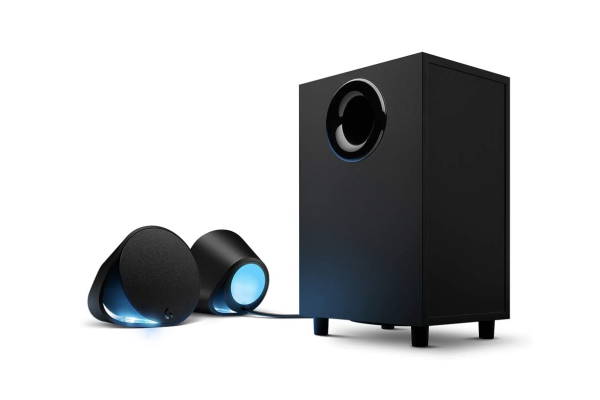 "The Ultimate Sound + Lighting Gaming Experience"
If you are a gamer, wanting to take your gaming experience to the next level and don't mind spending some money on your gaming laptop speakers, to get the best feel of the game that you play, then these are the best option for you. Starting off, I would highly recommend this speaker to people who love the base and love RGB and you'll also get amazing sound quality- Crisp lows, and loud(but not fractured) highs. The lighting makes the experience even better and is easy to customize in the app.
You get 2 Satellite Speakers, 1 Subwoofer, 120W RMS / 240W Peak, Type-A 3.5mm USB & Bluetooth 4.1, 7.1 DTS:X Ultra Virtual Surround Sound, amazing LIGHTSYNC RGB Lighting, Logitech Easy-Switch & Audio Visualizer.
They are simple & minimalistic and they will blend with your gaming setup easily. The lights are neat and you can sync them up with other Logitec G gear for a nice light show. I would definitely recommend these. Setting up these speakers is super easy, like literally Plug and play. In total, it would take around 15 minutes for you to get the box unpacked, just as easy peasy.
But the thing that I find a bit annoying is that its default settings are LOUD on most systems. Way, way too loud. Like, turning Windows volume up to 4 and the neighbors can hear them loud.
# 4 to 6 Best Speakers for Laptop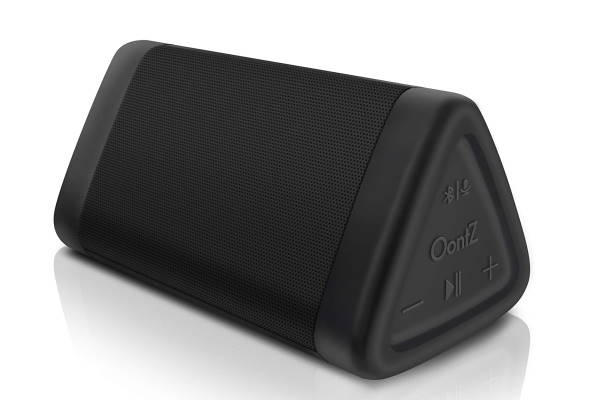 "One of the best portable laptop speakers"
If you travel a lot and want speakers for your laptop that are portable and easy to carry around, then the Oontz Angle 3 Ultra 3rd Generation is the perfect choice for you. They are small & light enough to be carried in your luggage without occupying much space and at the same time, its sound quality is good enough and worth listening to while traveling. If you are traveling then you won't get the silent space like your room to listen to the music, but these speakers are loud enough to be heard no matter where you are, so you can always enjoy your music anytime and anywhere. It is strong too, as there's a good chance you'll be listening to it at a seaside or beside the pool or anywhere else where there's a chance of it getting dropped and messy.
They are the latest generation of Portable Wireless Bluetooth Speakers for laptop and are designed and engineered by Cambridge SoundWorks.
Measuring 6.5 × 2.9 × 2.8 inches, it connects quickly over Bluetooth to your laptop and comes with Bluetooth 5.0 (Black Version) & Bluetooth 4.2 (White Version) making it one of the best wireless speakers for laptops. You can play it from up to 100 feet from your audio device. Triangular design with a stylish combination of curves and angles with no hard corners.
It has an exceptionally loud volume. Living up to its name, Oontz Angle 3 Ultra 3rd Generation is Ultra-Portable & Ultra-Lightweight, making it one of the best portable laptop speakers out there.
Along with the speakers, you get an instruction book, a micro USB charging cable and you also get a 3.5mm cable. If you look at these speakers, you'll know that it is shaped like a wedge with its power button as well as the volume up & down buttons on the right-hand side, giving it even a cleaner look.
The Oontz Angle 3 Ultra 3rd Generation comes with stylish design ( that plays horizontally and stands to play vertically), water resistance, weather-resistant and crystal clear distortion-free sound, all of this at a surprising budget price range.
Looking at all the features that these speakers give at such a budget-friendly price, it would be unfair to point out its lacking points. But for you guys, I'll do that. I think the area where these speakers lack is the battery life & quality of construction. These laptop speakers are not at the highest quality of construction and sadly you also have to charge them every three or four hours as the battery dies so quickly, sometimes making your experience quite frustrating.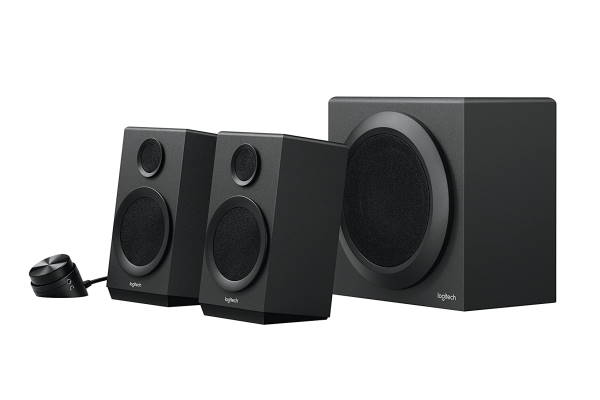 "Powerful Sound & Best USB speakers"
Finding a set of best speakers for laptop in budget and with amazing sound quality is really hard, but I think I've found a pot of gold for you all.
The Logitech Z333 comes with two 8W Satellite Speakers, designed to provide powerful sound and rich bass. The Z333 Speaker System with Subwoofer from Logitech can be simultaneously connected to two sources using its 3.5mm and RCA audio inputs. The Z333 delivers 40W RMS and 80W peak power with its dual 8W satellite speakers and 24W subwoofer for crisp & clear sound that adds another dimension to the videos, games, music, and more that you play on your laptop. Power volume and a 3.5mm headphone jack are all easily accessible via the wired control pod, while bass levels are adjusted using a control knob on the subwoofer.
Being 80W, you won't blow them and they can get very very loud. They look sleek and they are durable. They look more expensive than they are, having a wood finish to them and not being plastic like other speakers in this price range. The volume control is a separate knob that can fit in the palm of your hand. It is heavy and will not fall off your desk, which was my initial concern.
With Z333, Logitech tried to cover all the dimensions in a mid-range laptop speaker but according to me, the place where it lacks is the length of its cords. The cords to the speakers along with the auxiliary cable are quite short. The cords to the speaker are maybe 4 feet (which suffice) and the auxiliary cord is about the same length as well (which is a problem).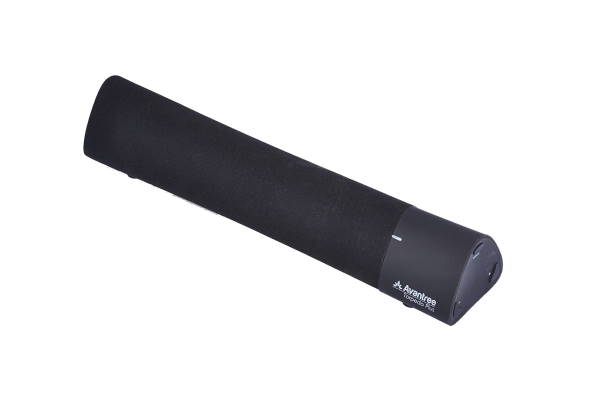 "Best Budget + Portable + Bluetooth Speaker"
If you are looking for the best budget laptop speaker that guarantees to support the aptx low latency codec, then Avantree torpedo plus AptX Low Latency is the best option for you.
These laptop speakers come with Bluetooth Version – V4.2, music time of up to 7 hours, a good frequency response of 50 Hz~20 kHz. The battery capacity of these Avantree torpedo plus speakers is 2200 mA / 3.7 V & Input voltage/ current is DC 5V/ 500mA. These speakers weigh around 0.72 kgs & are very easy to move around.
It is budget laptop speakers and for this price point they are one of the best laptop speakers, with high-quality build, material & packaging. It is sleek and matches perfectly with any kind of laptop setup. They really did a great job for the price point and its looks and feels more expensive than it actually is.
The only issue is that the sound quality isn't that amazing. It's not bad, but not great too. To compare with, it is obviously not as good as the Sony XB20, but that thing is expensive than this. So, for this price, I would say that this speaker deserves all 5 stars.