Note that this is an old post.

For the most recent information, see this post on the Best Hybrid Laptops on the market!
Both laptops and tablets are useful in their own ways, and have traditionally been created as completely separate devices. However, if you've been paying attention to the mobile device market, both smartphones and tablets have been increasing in the amount of horsepower they provide, approaching the efficiency of ordinary laptops and desktops. And with the release of operating systems like Windows 8, Microsoft is beginning to bridge the gap between the two worlds. They're certainly not the only company to be following this trend, but being that their OS has a majority market share they tend to have a very significant impact on the PC market.
One way in which they're impacting the market is the fact that Windows 8 focuses on a touch-centric interface. Initially dubbed "Metro", this interface is both slick and simple to use, although it has also faced a bit of controversy among keyboard and mouse users. Regardless, manufacturers have been releasing devices that take advantage of this new paradigm in the form of laptop/tablet hybrids. Microsoft's Surface is one of the most popular, but it's definitely not the only one. In fact, many of the most well-known PC makers have been putting out very attractive and innovative hybrid devices that compete in the market quite well. So let's see what the best hybrid tablet laptops are in 2014.
10. Lenovo IdeaPad Yoga 13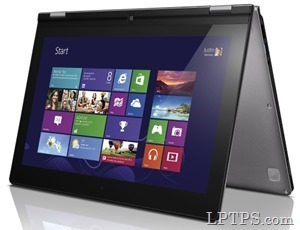 With the IdeaPad Yoga 13, Lenovo has a rather straightforward approach to tablet/laptop hybrid design. The hinge is designed simply so that the screen can be pushed all the way to the underside, effectively letting you use it as a tablet with its touchscreen and copy of Windows 8. For hardware it offers a Core i5-3317U processor, 8 GB of memory, 128 GB of solid state storage, and a 13.3-inch screen. Given that it also fits into Ultrabook specifications, it's also remarkably thin. Other than the 360 degree hinge, there's not a whole lot to write home about. It's priced at a reasonable $1,299 and that's the reason we've listed it in our list of best hybrid laptop tablets of 2014.
9. Asus Transformer Book T100T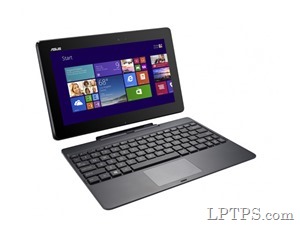 Even more impressive in terms of pricing is the Transformer Book T100T from ASUS. It doesn't offer a fancy hinge design like many of the others, but it does have an included, detachable keyboard dock. Along with the dock is an Atom quad-core processor (Z3740), 64 GB of solid state storage, 2 GB of memory, 11 hours of battery life, a copy of Windows 8.1, and a 10.1-inch screen. Obviously its specs aren't quite as impressive as the others, but if you only have about $455 to spare, it's probably the best that you can get if you want the convenience of laptop tablet hybrid.
8. Dell XPS 12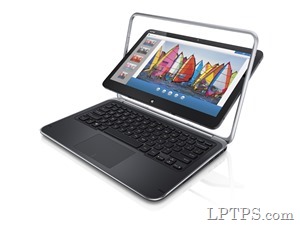 If you're looking for a hybrid that's more on the budget end of the pricing spectrum, Dell might have what you need. Their XPS 12 acts as both a tablet and an Ultrabook, offering a copy of Windows 8, a Core i5-3317U at 1.7 GHz, 4 GB of memory, 128 GB of solid state storage, and a 12.5-inch touchscreen display. In terms of its hybrid design, it transforms between its two states by way of a framed silver screen-shaped hinge, allowing you to flip the screen over within its frame and lay it flat against the keyboard. It's a very simple and effective design that works fairly well. And at $799 it won't hurt your wallet as nearly as much as some of the other hybrids on the market.
7. Acer Aspire R7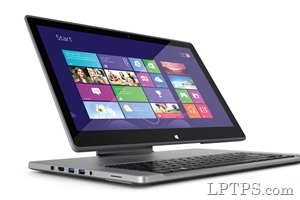 Among the more innovative hybrid designs is Acer's Aspire R7. While it can function as both a tablet and laptop like all the other hybrids listed here, what makes it unique is the patented "Ezel" hinge, letting you adjust the screen to several different positions including traditional laptop position, angled tablet with keyboard, angled tablet without keyboard when you swivel around, and a regular tablet. Besides the great hinge design is the included Core i5-3337U processor at 1.8 GHz, 6 GB of memory, 500 GB hard disk storage, 24 GB of solid state storage, and a full HD 15.6-inch display. It's an extremely nice device to use, and with its price starting at $999 it's not too bad compared to the other hybrid laptop tablets mentioned so far.
6. HP EliteBook Revolve 810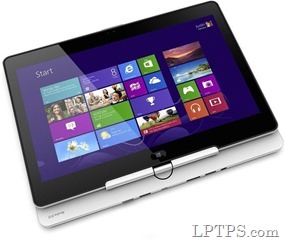 HP's offering into the hybrid category looks more like a traditional laptop than a tablet, but it can still function nicely as both. It's built to military standards on a number of fronts, and includes Windows 8.1 Pro (downgradable to Windows 7), a Core i5-4300U processor at 1.9 GHz, 4 GB of memory, 128 GB of solid state storage, and an 11.6-inch touchscreen. Its hybrid functionality comes in the form of a swiveling and tilting display, able to optionally cover the keyboard so as to act like a tablet. It's a very convenient design that's reflected in its $1,299 price; you certainly do get what you pay for.
5. Sony VAIO Duo 13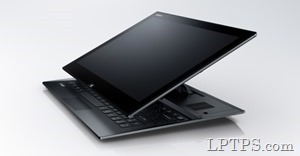 For a laptop/tablet hybrid that can offer a bit of horsepower, Sony offers the VAIO Duo 13, a rather unique take on the hybrid trend. While it's mainly a tablet, the keyboard part is permanently attached, with the touchscreen able to slide gracefully to an upward angle to expose the keyboard. On the inside it has a Core i7-4500U processor, 13.3-inch full HD screen, 8 GB of memory, backlit keyboard, and a copy of Windows 8 Pro. Perhaps more importantly, it has up to 10 hours of battery life, letting you run nearly all day on a single charge. The price, however, is a little bit high at $1,899, but you can tell that the extra cost has gone into its innovative design.
4. Samsung ATIV Smart PC Pro 700T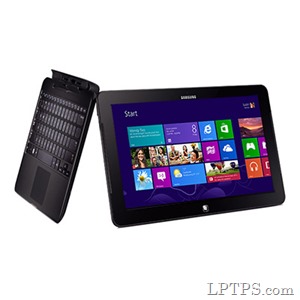 Samsung is already known for its Galaxy line of mobile devices, but something they're not quite as known for is their line of laptops. One of the laptops that they offer has an extremely pixel-dense screen (qualifying as "Retina"), but they also offer a laptop/tablet hybrid that runs the full Windows 8 operating system. Their ATIV Smart PC Pro 700T is an 11.6-inch tablet that includes a full keyboard dock with USB ports, a Core i5-3317U processor clocked at 1.7 GHz, 4 GB of memory, 128 GB of solid state storage, and a decent price of $919. It's a fairly good deal for the kind of functionality that you get.
3. Razer Edge Pro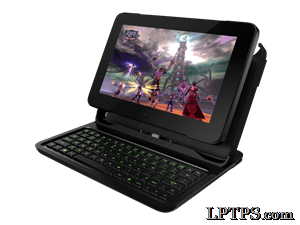 When you think of a tablet computer, you usually don't think of something that can play high-end games in any capacity. Razer, however, aims to break this stereotype with their Edge Pro tablet, a full Windows 8 tablet that includes a Core i7-3517U processor at 1.9 GHz, 128 GB solid state storage, 8 GB of memory, a miniscule weight of 3.2 lbs, and NVIDIA Optimus technology that dynamically switches between Intel HD 4000 graphics and NVIDIA GT 640M LE graphics. The price starts at $999 depending on the amount of storage you select. And just because it's a tablet doesn't mean that keyboard and mouse for gaming is out of the question; with its USB ports you can connect peripherals as desired. I know a hybrid device from Razer was unexpected in this kind of standard list of hybrid laptops but what can I do, they've manufactured such a great device.
2. Microsoft Surface Pro 2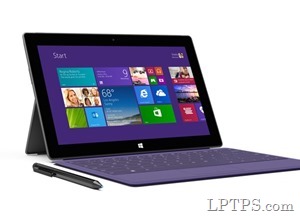 One of the first companies to start the laptop/tablet hybrid trend was Microsoft with their line of Surface tablets. Their regular Surface tablet includes Windows RT, limiting its use as a general Windows machine. The Surface Pro, however, includes the full version of Windows 8, able to run nearly any Windows application in existence while offering a sleek touch-based user interface. In particular, the Surface Pro 2 includes a 4th-generation Core i5 processor, 10.6-inch multitouch screen, 128 GB of internal storage, 4 GB of memory, 1 USB 3.0 port, a copy of Windows 8.1 Pro, a capacitive stylus, a keyboard dock, and a price of $1,103. Even though Surface is not trending anymore it is one of the best laptop tablet hybrid in 2014.
1. Lenovo IdeaPad Yoga 2 Pro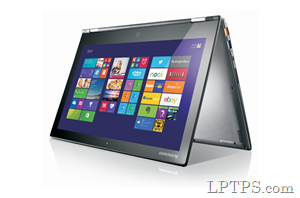 Lenovo has always been one of my favorite laptop brands and I believe IdeaPad Yoga 2 Pro is the best hybrid tablet laptop ever made. While Lenovo has always been known for its very straightforward and work-oriented notebook designs, they also offer notebook models that put a bit of effort into innovation. Their Yoga 2 Pro can act as both a regular laptop and as a Windows 8 tablet, with plenty of hardware to back it up. It includes a 4th generation Core i7-4500U processor, 8 GB of memory, a 256 GB solid state drive, and a weight at a mere 3.1 lbs. Not only that, but it's only 0.6 inches thin! Already, it's an extremely versatile and portable hybrid device, but that's not the only trick up its sleeve. Its 13.3-inch display has a resolution of 3200×1800, making it one of the most pixel-dense devices on the market. You'll be paying for it, though, with its $2,199 price tag.