This is an old post from 2014.

Check out this newer article on the best ultra thin laptops.
Over time, laptops have gotten increasingly thin as we're able to improve upon the manufacturing process and make components even smaller. One example of a category of laptops that pushes this to the extreme is the Ultrabook, which is a set of specifications that dictate a maximum thickness, fast boot times, and many other things. Obviously a laptop doesn't have to be an Ultrabook in order to be thin, but seeing that label signals a few guarantees about its quality. In any case, 2014 will bring a wide range of thin laptops with it, Ultrabook or not, that emphasize thinness and mobility.
The thin laptops mentioned in this article all come from very well-known brands, and they were picked because of their quality, usability, build quality, and lightweight components. You won't be breaking your back trying to carry them, since a lot of them are under 3 lbs due to how thin they are. In some cases you might see the optical disc drive sacrificed in favor of thinness, but this isn't as much of an issue these days with the proliferation of digital downloads (plus, there are external USB disc drives you can buy). So without further ado, let's see what thin laptops are best in 2014.
10. Dell XPS 13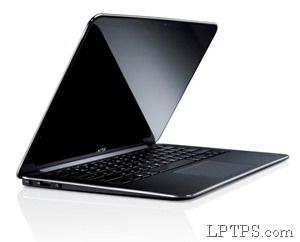 Dell's foray into the world of Ultrabooks is in the form of their XPS lineup. The XPS 13 in particular offers a 13.3 inch display, 0.70 inch thickness, a weight of 2.99 lbs, a Core i5-2467M at 1.6GHz, and 128GB of solid state storage. With a price of around $900, it's fairly competitive with many other Ultrabooks out there. It may not quite be up to par with an Air or ATIV Book 9 in all aspects, but it's still a solid choice in super-thin laptops backed by the known dependability of Dell computers. The model has received a refresh in 2014 with the choice of Windows 8, among other things.
9. Samsung ATIV Book 9 Plus
Normally you don't think of laptops when you hear the name Samsung; most of their notoriety comes from their smartphones and tablets, but in this case they're offering a touchscreen laptop that threatens to topple Apple's leading position when it comes to super-thin notebooks. The ATIV Book 9 Plus is only 0.53 inches thick, weighs 2.56 lbs, and perhaps its most unique feature is the 3200×1800 resolution on its 13.3 inch screen. It has the equivalent of a retina display before Apple has even put one into its own Air notebook, making this a great purchase if you want the latest tech. At $1,399, the price is about on par with nicer configurations of the Air, and it includes a Core i5-4200U with 128GB of solid state storage.
8. Lenovo ThinkPad X1 Carbon Touch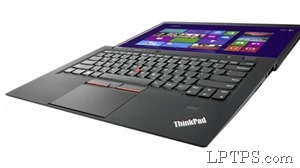 For business users looking for a solid, no-nonsense notebook, Lenovo has traditionally been the go-to company for this purpose. But even though the ThinkPad X1 Carbon Touch is made for business, it has all of the capability of modern PCs with a 14 inch touchscreen, 2GHz Core i7-3667U, 8 GB of DDR3 RAM, 240 GB of solid-state storage, one USB 3.0 port, one USB 2.0 port, and an average battery life of 8 hours. The body is 0.82 inches thick and a weighs in at 3.4 lbs. All in all, at $1,475 it certainly is one of the best thin laptops and it's a great choice for the ultimate balance in mobility and productivity.
7. Asus Zenbook UX32A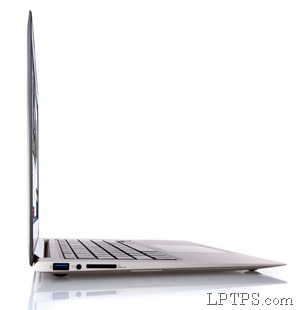 As opposed to the Taichi, ASUS's Zenbook is more like a traditional laptop. It has a 0.71 inch thickness, making it a tad thicker than MacBook Air, and conforms to the Ultrabook specification. The screen resolution is nothing special at 1366×768, though it's adequate for 720p media. Like other Ultrabooks, it has nearly instant-on functionality, waking from sleep in mere seconds. It includes a 3rd generation Core i3-2367M processor, three USB 3.0 ports, HDMI output, and an SD card reader. For $899, it's a solid purchase decision that will look a little stylish as well with its circular brushed look on the lid.
6. Lenovo IdeaPad Yoga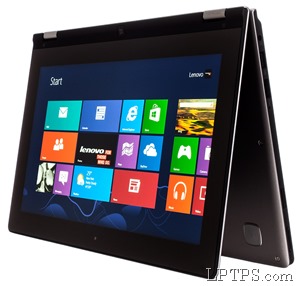 Much like the ASUS Taichi, Lenovo's IdeaPad Yoga is a hybrid/convertible mobile device that can be used as both a laptop and a tablet. Perhaps the biggest advantage it has over the ASUS model is that it starts at $899, making it significantly more affordable if you don't have a whole lot to spend on your new thin laptop. It doesn't have the dual screens of the Taichi, but the screen can be folded back-to-back with the computer in order to switch modes. It's not quite as sleek, but it's every bit as functional. One potential downside is that the screen resolution is only 1600×900, which only allows 720p content to be shown at full quality. It is otherwise a great purchase.
5. Asus Taichi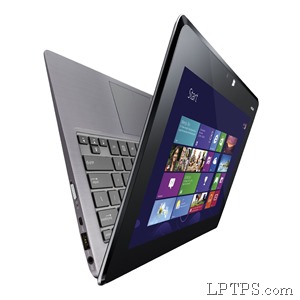 With the Taichi, ASUS is offering a more innovate approach to thin laptops. Knowing the recent trend of tablets and laptops converging, the company has created a product that can be converted and used as both a regular laptop and a tablet. It includes two 11.6 inch screens, one on the inside of the display panel, and the other on the outside. The inside one acts as a normal laptop display, while the outside is a touchscreen that you can use when you close the lid. It includes Windows 8, 256GB of solid state storage, and 4 GB of DDR3 RAM. At $1,189 it's a great buy if you want a thin laptop to use it for both productivity and casual consumption.
4. Acer Aspire S7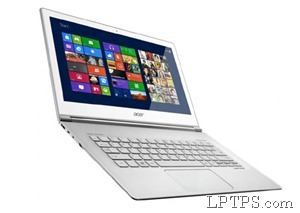 Acer's offering in the thin laptop category is quite spectacular. Coming in at a thickness of about 0.47 inches, it's even thinner than Apple's MacBook Air, and on top of that it only weighs about 2.86 lbs. It's very much a densely-packed laptop, and yet it offers the same range of capability as any other PC with a 1.7GHz Core i5-3317U processor, 4 GB of RAM, 128 GB of solid state storage, a 13.3 inch 1080p touchscreen display, an average of 6 hours battery life, two USB 3.0 ports, and a micro-HDMI output. The normal price is $1,299 and for that money you get the world's thinnest laptop to date.
3. HP Spectre XT TouchSmart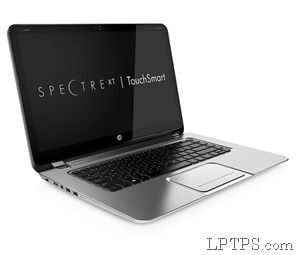 In terms of thin laptops, the Spectre XT TouchSmart Ultrabook from HP is a very formidable laptop with some great specs and design. Perhaps its most notable feature is the fact that it doesn't omit a touchscreen simply because it's an Ultrabook; its multi-touch functionality makes the included Windows 8 much nicer and easier to navigate. It includes an Intel Core i7-3517U 1.90GHz processor, 8 GB of DDR3 RAM, a 500 GB hard drive, 32 GB of solid state storage, and 5.25 hours of battery life. Its 15.6" display has a 1080p resolution allowing you to watch the best HD content there in their full fidelity. Its normal price is about $1,349.
2. Sony VAIO Pro 13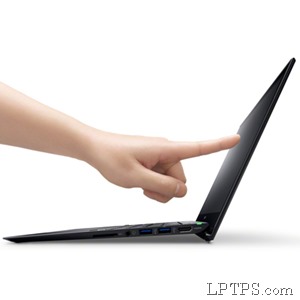 Sony's VAIO Pro 13 is an Ultrabook that can compete quite well with what Apple has to offer with their ultraportable notebook. It weighs only 2.34 lbs, making it just barely lighter than the MacBook Air. Spec-wise it just about matches it in every aspect with a 4th-gen Intel Core i5 (configurable to an i7), solid-state storage, 4 GB of RAM, and so on. It has slightly less powerful graphics with Intel HD Graphics 4400, but with a higher resolution screen at 1920×1080 compared to the Air's maximum of 1440×900. This can be a big deal if you plan on watching full HD content on thin laptop. It's priced just about the same as the Air at $1,149 and up.
1. Apple MacBook Air 13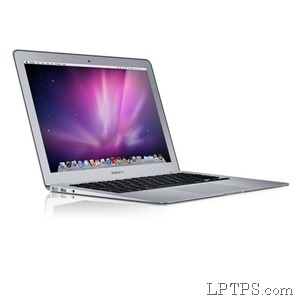 The 2014 MacBook Air continues Apple's reputation for premium-quality laptops built with high-quality components and still remains one of the thinnest laptops in 2014. Coming in at a thickness of only 0.68 inches and weighing only 2.38 lbs, it's one of the thinnest notebooks that you'll ever find for a long time to come. The only thing it sacrifices is a disc drive, because the rest of its hardware is more than capable with a 1.3GHz dual-core Intel i5, 4 GB of RAM, Intel HD Graphics 5000, solid-state storage, 802.11ac Wi-Fi support, two USB 3.0 ports, and a Thunderbolt port. Unfortunately it lacks the retina display of Apple's other laptops, but its display is nonetheless quite clear and beautiful-looking.