The Acer Chromebook 14 is definitively one the best budget Chromebooks at the moment. It is much better equipped than most of its competitor with a 14" HD screen (1920 x 1080), 4 GB of memory and a 32 GB SSD hard drive. Thanks to its memory and processor, it will lag much less than the others when you multi-task heavily.
Instead of plastic, Acer went with an all aluminium body. With a beautiful design, it definitively looks like a high-end laptop – even if it's not – and it has a decent, solid, construction. This Chromebook will make heads turn when you work in a café with it!
Of course this is a Chromebook, so it won't run Windows applications, but it still might be great for someone who needs a computer to surf the web, takes notes in class and have a lightweight portable device they can bring everywhere.
(Note that we specifically make an Acer Chromebook CB3-431-C5FM review here. There are a few other Acer Chromebook 14 models available and this one has the best value for money.)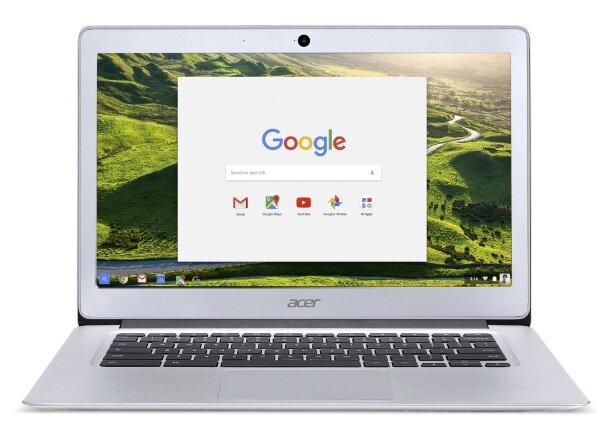 Buy on NewEgg
Check price on Amazon
One of the Best Chromebook on the market
BEST FOR
Students
Internet browsing and watching movies
PROS
HD screen with good viewing angles and brightness
Beautiful, all aluminium body
4 GB of memory
32 GB storage
CONS
94%
Better than the others Chromebooks
QUICK SPECS
Processor : Intel Celeron Quad-Core N3160
RAM : 4GB
14" HD screen (1920 x 1080)
32 GB
Battery life: expect 8 to 10 hours
0.7" thick / 3.7 lbs
All Aluminium
Price range: $
Detailed Acer Chromebook 14 Review
There are not many bad things to say about this laptop. Design is beautiful and the construction is all aluminium instead of cheap plastic. Performance is good and the 4GB of memory and 32G SSD hard drive gives it better specs than the competition. The 14 inches HD screen is beautiful while the laptop is still light and very portable. It's definitively a great budget Chromebook from Acer.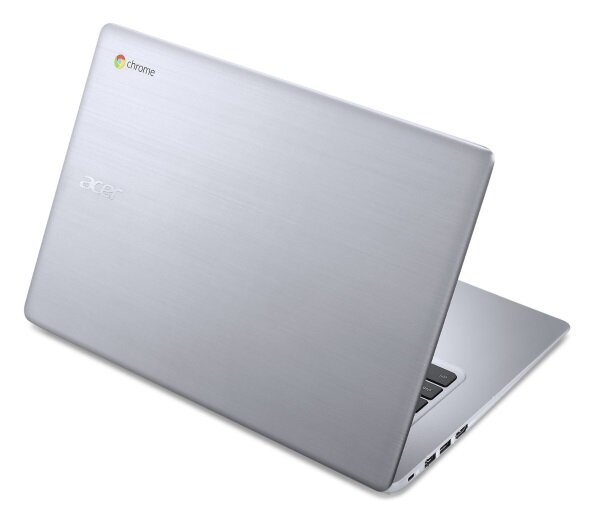 Buy on NewEgg
Check price on Amazon
Design
The design and construction are definitively better than the competition. The chassis and keyboard have the look of an Apple MacBook without the price (and without the quality of construction, of course). It really looks nice and the all aluminium body makes it more solid than its plastic competitors. Acer really hit a home run with the design of this one.
Performance
For a low price laptop, this device offers good performance with its Celeron Quad-Core. While it's not going to win a performance comparison with higher priced laptops, it's still pretty decent and more than enough for what most users will need in a Chromebook. While its competitors have 2GB of memory, this one packs 4GB, which really makes a difference when multi-tasking.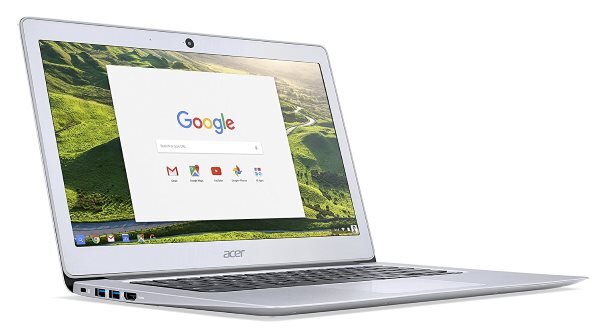 Buy on NewEgg
Check price on Amazon
Graphics
The Acer Chromebook 14 is equipped with a very good 14-inch display that his HD with a 1920 x 1080 resolution. The screen is quite good, viewing angles are wide, colors rendering is good and brightness is decent. This is a really good screen for a laptop with that price tag!
Storage
Acer has put 32G SSD of storage in this Chromebook. This is more than most of the competition that generally has 16G, so you have a little space to store files you need locally. Of course, you won't be able to store lots of music and movies, but this is not the goal in a Chromebook. The 32 GB storage space is a nice plus went you need to manage your files, compared to the 16G one.
One of the only drawbacks of this laptop is the fact that it doesn't have a SD card slot to add more storage space. If it matters to you, you'll have to use the online storage or a USB key.
Battery
Battery life is good and you should be able to use this laptop for over 9 or 10 hours before charging it, more than enough for a full day of school or work.
Audio
The sound is surprisingly good for a budget Chromebook. It will be good enough to watch movies and listen to music without distortion.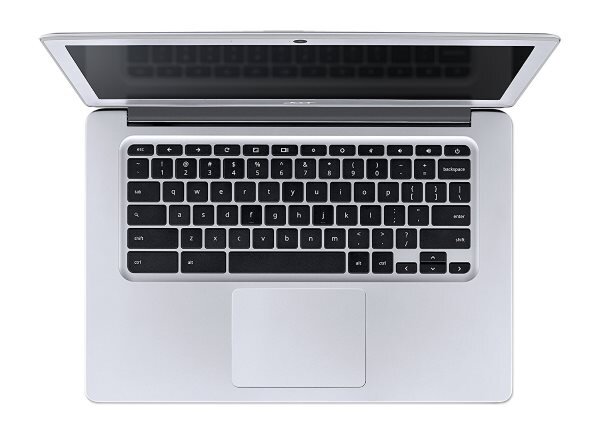 Buy on NewEgg
Check price on Amazon
Keyboard & Mouse
The keyboard look is very similar to a MacBook and is very stylish. But that's where the comparison ends. For the price, it's still a decent full-size keyboard that is backlit, but it doesn't feel as good as the higher-end laptop – and it should not be expected. The trackpad is of good quality and responsive.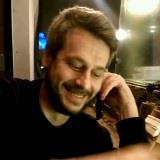 Erik is the owner and main editor of lptps.com. He has been working in computers and information technology for more than 20 years. He's a business analyst, developer, and avid traveler.