The Lenovo 11e is a solid ultraportable great for someone on the road that needs a small budget laptop. It has a great anti-glare 11-inch screen and performs very well thanks to its quad-core processor, 128 GB SSD hard drive and 4 GB of memory. Its build quality is better than most of its competitor, no wonder it's one of the best Windows budget laptops. With its reinforced corners and rubber band around the cover, it's really built to last. It also comes with Windows 10 Professional edition.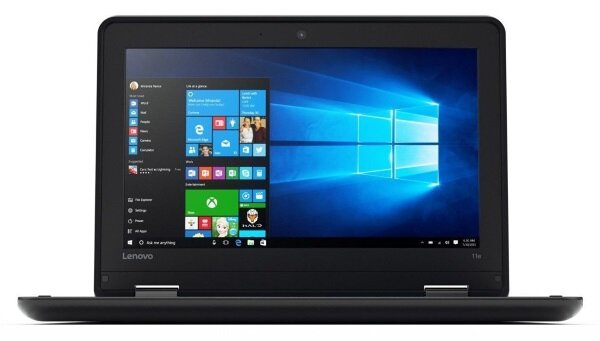 Great budget ultraportable
BEST FOR
People working on the road
Students
PROS
Built-to-last
128GB SSD Hard drive
Good performance
Battery life
CONS
11.6" screen might be too small for some
a little bulkier than other 11.6" netbooks
One of the best in its category
QUICK SPECS
Intel N3150 with 8GB of RAM
11.6" screen (1366 x 768)
128GB SSD hard drive
Up to 6.5 hours of battery life
0.88" / 3.3 lbs
Windows 10 Pro
Price range: $
Detailed Lenovo 11e Review
The Lenovo 11e is a great choice for any professional on the road or student that needs a light laptop that fits in any bag, but still has enough power for most daily tasks. The 11.6″ screen won't please everyone, but it makes the computer light and ultraportable. The built quality is very good and it is made to last thanks to its construction.
Performance
The Lenovo 11e performs very well and has great features for a laptop of this category. With a Quad-core Celeron processor, 8GB or RAM and a 128GB SSD hard-drive, it has better specs than most in its category. It will run Windows quite smoothly.
Design
This laptop has the classic Lenovo look on a small factor, which makes it a good business laptop. Its reinforced edges and rubber band around the cover makes it stronger than all of its competitors and is built to last. Even with that, it's pretty light at 3.3 pounds.
Graphics
The 11.6″ screen  – 1366 x 768 – is bright and non-glossy to allow you to work outside or in a bright environment.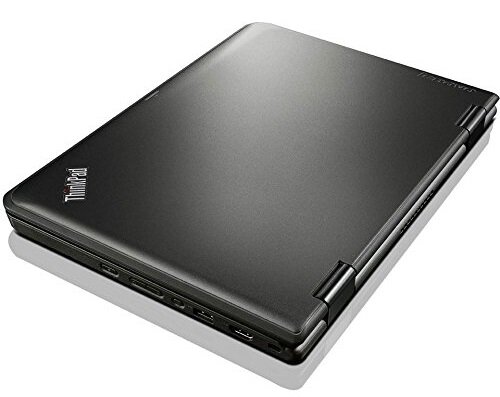 Hard Drive
The Lenovo 11e is equipped with a 128GB SSD hard drive, which will make Windows runs much faster. Very good for a laptop of this price.
Battery
The battery lasts quite a long time even under heavy stress and should last more than 6 hours.
Sound
Sound quality is quite good for a budget laptop and should allow you to play videos during presentations or listen to music.
Keyboard and mouse
The keyboard is surprisingly comfortable for a laptop of this size. Responsive and with full-size arrows. The touchpad is decent.
Operating System
The Lenovo 11e comes equipped with Windows 10 Pro, which makes it perfect as a business laptop for sales people on the road, and also a great laptop for school.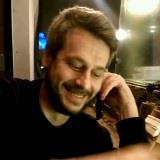 Erik is the owner and main editor of lptps.com. He has been working in computers and information technology for more than 20 years. He's a business analyst, developer, and avid traveler.