The Acer Switch Alpha 12 is a detachable laptop / tablet that compares – I should say copies – to the more expensive Microsoft Surface Pro 4. Does it compare?
While the Surface 4 is definitely of better quality, the Acer Switch Alpha 12 is a very well built detachable laptop offered at a more reasonable price. With more than decent performance and equipped with a great bright 12-inch touchscreen, it delivers a lot of value.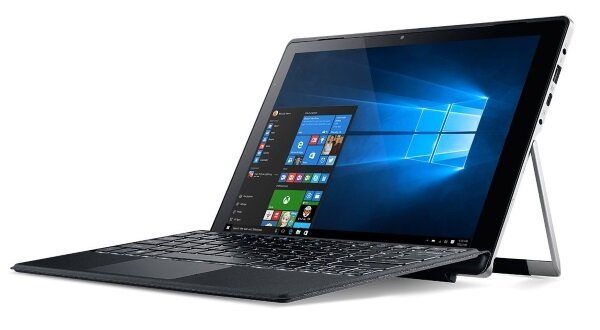 Buy on NewEgg
Check price on Amazon
Affordable Quality and Value
BEST FOR
PROS
Beautiful, vivid screen
Great performance
Lots of value
CONS
Shorter than average battery life
81%
Great features with disappointing battery life
QUICK SPECS
12" QHD touchscreen (2160 x  1440)
Intel i5 with 8 GB of RAM
256 GB SSD
Up to 8 hours battery life
Windows 10 home
0.62" / 2.9 pounds (with keyboard attached)
Price range: $$$
Detailed Acer Switch Alpha 12 Review
Acer offers here a great value detachable laptop that's powerful, has decent sound and a great bright touchscreen. The battery life is lower than average and the sound isn't as good at the – more expensive – competition, but otherwise it's a smart purchase.
It's a smart purchase if you are a college student or someone on the road that wants to easily share with clients but that also needs a full featured laptop that delivers performance. It's not the best detachable laptop on the market, but it's definitively one that offers a lot of value. Note that if you are often flying, this detachable design is not the best to work in an airplane. You might want to look at a more traditional ultraportable.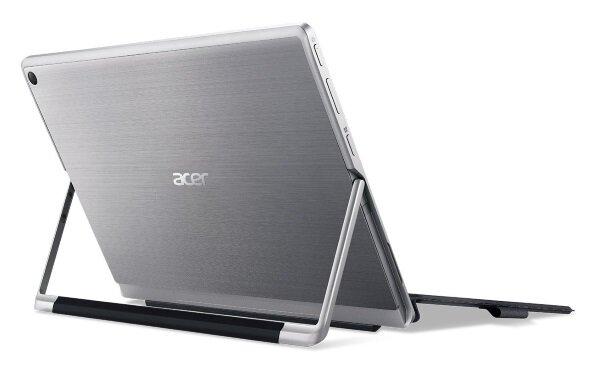 Buy on NewEgg
Check price on Amazon
Design
With its detachable keyboard and included pen, Acer built a very versatile 2-in-1 laptop. Either use the tablet mode – with or without pen – for web surfing or drawing or connect the keyboard that holds with magnets and opens the kickstand for a full featured laptop. The kickstand is adjustable so that you can work at virtually all positions.
The Acer Switch Alpha 12 has a fan-less design thanks to its water cooling system that works quite well. The back of the screen might become a little hot – for example when you're watching a 4k video – but the rest of the laptop stays cool to the touch, including the most important parts: the keyboard and touchpad.
While it's a little heavier than some of the competition at 2.9 pounds, it still very portable and its size makes it easy to carry around in a purse of a small bag.
Performance
Performance is at par with most of the competition. With the Intel i5 processor and 8 GB of RAM, you don't have to worry about lack of performance, even if you're heavily multitasking or streaming 4k movies.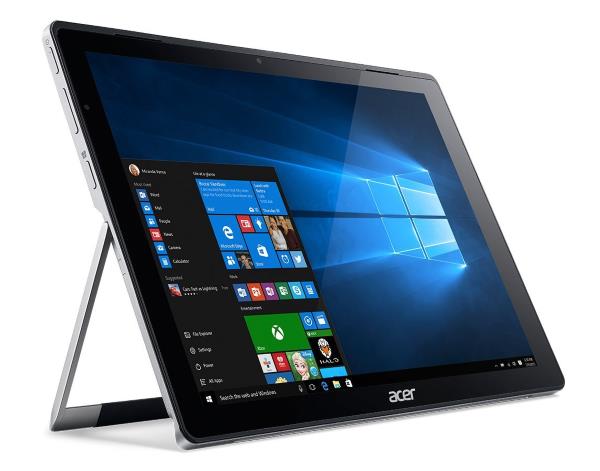 Buy on NewEgg
Check price on Amazon
Screen & Graphics
Wow that screen is great for a mid-range laptop. With a high resolution of 2160 x 1440, the 12-inch QHD touchscreen shows vivid colors and its brightness is one of the best in the market. Not bad for a mid-range laptop!
Of course, don't expect to be able to play demanding games with its Intel HD 520 graphic card, but since none of the competition does, it doesn't lose points here.
Storage & Ports
The Acer Switch Alpha 12 is decently equipped when it comes to ports. It has one 3.0 USB, one USB-C and a micro-SD slot if you ever need more storage space than the 256GB SSD hard drive it comes with.
Battery
This is where the Acer Switch Alpha 12 loses some points. While Acer claims it'll last 'up to' 8 hours, expect more 5 to 6 hours of battery life.
Audio
With the two front facing speakers, the sound is quite clear, but not as loud as the competition. Still pretty good but you can see that it's a middle range laptop (which it is… so no surprise here!).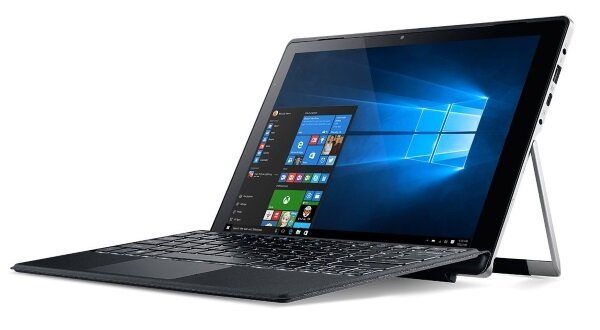 Buy on NewEgg
Check price on Amazon
Keyboard & Mouse & Pen
The keyboard is attached to the screen by magnets and can be configured to either lay flat on the table or have an angle. It's quite comfortable and responsive and it's even backlit.
The pen works quite well and is useful for taking notes or drawing, but make sure you don't forget it by mistake on the desk… it's easy to confuse it with a real pen.
Other available versions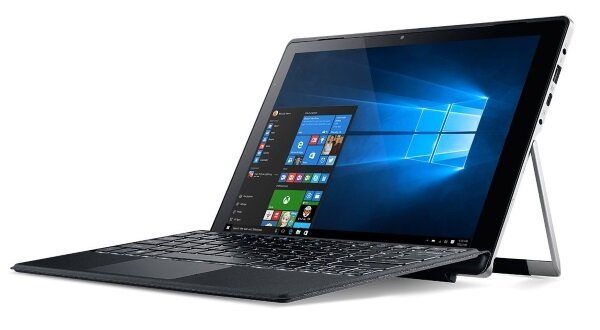 12" HD, Intel i3 with 4 GB of RAM, 128 GB SSD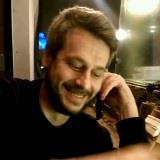 Erik is the owner and main editor of lptps.com. He has been working in computers and information technology for more than 20 years. He's a business analyst, developer, and avid traveler.