If you're looking for a 10-inch laptop that is lightweight, portable and comes with great battery life, read this Asus Transformer Mini T102HA review, I think you might have found exactly what you're looking for!
There are a quite a few low-cost 2-in-1 laptops available, and the Asus Transformer Mini T102HA is definitely one of the best. It comes with a good display, long battery life, excellent speakers and a keyboard case that can be detached from the tablet. Read our Asus Transformer Mini T102HA review to understand why we recommend it so often!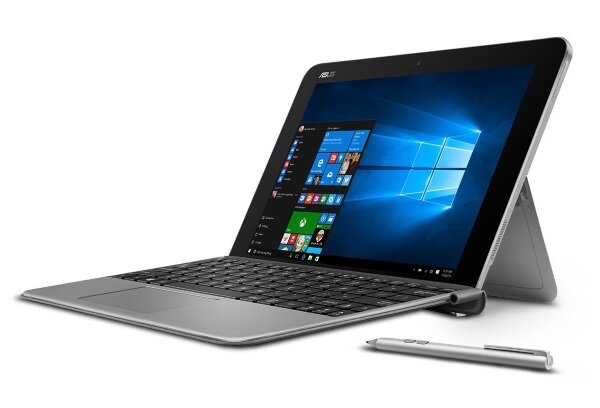 Buy on NewEgg
Check price on Amazon
Affordable 2-in-1 Laptop with good build quality, great battery life & speakers
BEST FOR
Students
Travelers
A multimedia device with excellent battery life
PROS
Good Display
Solid Build Quality
Long Battery Life
Excellent Speakers
CONS
Cramped Keyboard
Slow Performance
83%
Great Budget Mini Laptop
QUICK SPECS
10.1" (1280 x 800)
Intel Cherry Trail with 4 GB of RAM
128 GB eMMC
Up to 11 hours
Windows 10
0.32" thick / 1.74 lbs
Price Range: $$
Detailed Asus Transformer Mini T102HA Review
If you can sacrifice on the performance to gain portability and a long battery life, then the Asus Transformer Mini T102HA is a mini notebook that you should definitively consider. It is light, well-built, and it lasts long. The Asus Transformer Mini T102HA is an ultra-portable 2-in-1 laptop running Windows 10 that looks good and that delivers on its promises.
It comes with a detachable keyboard that works well. If you are a Microsoft Surface Pro fan, the design of the Asus Transformer Mini T102HA won't disappoint you a bit. And if you are an Apple MacBook Air fan, then the battery life will impress you the most. But, the Asus Transformer Mini T102HA is neither the Microsoft Surface Pro nor the MacBook Air, it is an ultra-portable Windows machine with a price that's tough to beat!
Keep in mind that this is a budget notebook: you won't get the quality features of a more pricey laptop, but for the price, it does offer a lot!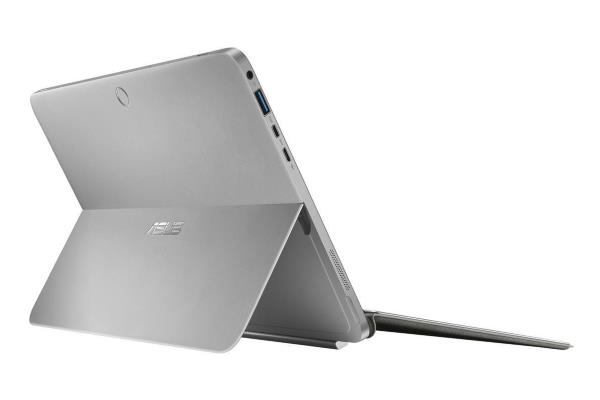 Buy on NewEgg
Check price on Amazon
Design
The Asus Transformer Mini T102HA looks good and resembles the Microsoft Surface due to the tablet + keyboard kickstand that it comes with. It features a 10.1-inch screen protected by the case – available in different colors – that protects the display and that is also used as a keyboard.
Asus is a pioneer in that kind of device and it shows. The tablet is made up of magnesium-aluminum that looks premium and is durable. You can detach the display from the case if you want to use the laptop in tablet mode. Most of the hardware in the display itself, hence the upper side of the laptop feels heavy.
The tablet itself weighs around 1.2 pounds (1.74 when you attach the keyboard case). The portability isn't an issue as you can easily carry your laptop in your bag and forget it's there. The tablet case feels sturdy and durable. It's tough enough to save your laptop from accidental drops.
Performance
As I said, in the beginning, the tablet won't impress a power junky. This is a low specification tablet and the hardware is only good for light stuff like using MS Word, Excel or watching YouTube and surfing the internet.
Asus chose to go with the Intel Atom X5-Z8350 or formerly known as the Intel Cherry Trail processor. This CPU consumes less power but is also less powerful. As a result, the T102HA may struggle with some heavy Windows Apps. But it has 4 GB of RAM, which is a plus. This will allow you to open multiple instances of Chrome and also do multitasking with other Windows apps. You may notice a slight delay while opening certain apps but it's not a deal breaker.
Don't expect the laptop to run any 3D games, that's not what it's made for. But for casual web browsing and Microsoft office, the tablet won't disappoint you a bit.
Screen & Graphics
The Asus Transformer Mini T102HA is equipped with a 10.1-inch touchscreen with a resolution of 1280 x 800 pixels. The touch response is accurate, and no lag was detected. Watching 1080p full HD video is flawless, and you won't find any jittering.
When we tested it, the colors were vibrant, and the objects moved smoothly without any stutters. The display is adequately bright in indoor conditions but not as impressive under direct sunlight.
The 3D processing on the Asus Transformer Mini T102HA is nothing to brag about and the benchmark test shows why. The laptop comes with an integrated graphics chip which is severely underpowered, limiting the graphics-intensive tasks on the laptop to a bare minimum. But anyway, you don't buy that kind of budget notebook for its graphics processing power!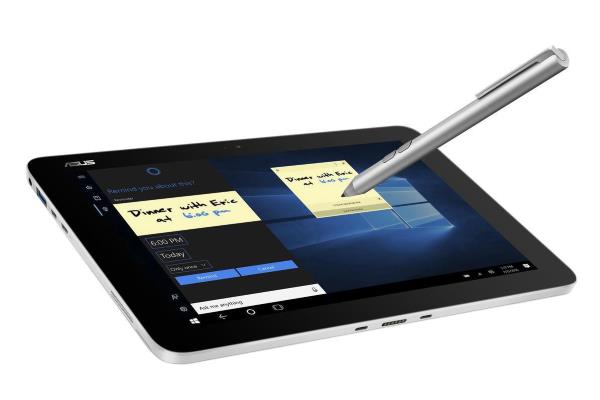 Buy on NewEgg
Check price on Amazon
Storage
One area where the Asus Transformer Mini T102HA shines is the internal storage. This small notebook comes with 128 GB that is fast and reliable. The laptop boots in a few seconds and the reading and writing speed is good too.
Ports
The Asus Transformer Mini T102HA is a small device. As a result, there are not many ports. But Asus managed to squeeze enough for better productivity. The Asus Transformer Mini T102HA has the following ports in it:
1 x USB 3.0
1 x SD Card Reader
1 x Micro HDMI port
1 x 3.55 mm Audio Jack
The full-size USB 3.0 port means that you can transfer the content with blazing fast speed. The Micro SD card slot allows you to expand the memory to store large media files and music.
There is also a fingerprint scanner on the tablet that allows you to unlock the tablet with your fingers and add an extra layer of security.
Battery
The Asus Transformer Mini T102HA shines the most in the battery department. The low powered processor & graphics have allowed Asus to pull out an impressive 'up to' 12 hours of battery life, which is very good for the category. Expect it to last 8 hours with mixed usage, which means you can get a whole day of work done on a single charge.
Audio
The Asus Transformer Mini T102HA is small in size, but if you turn up the volume on this device, you will be surprised to see how loud the built-in front speakers get. The sound was crisp & clear, making the listening experience pleasantly good. The bass may be something you need to compromise with, but otherwise the overall sound quality is exceptional for the price. Make sure that you keep the tablet on a flat surface using the kickstand while listening to music because holding the tablet in hand will block the speaker grill completely.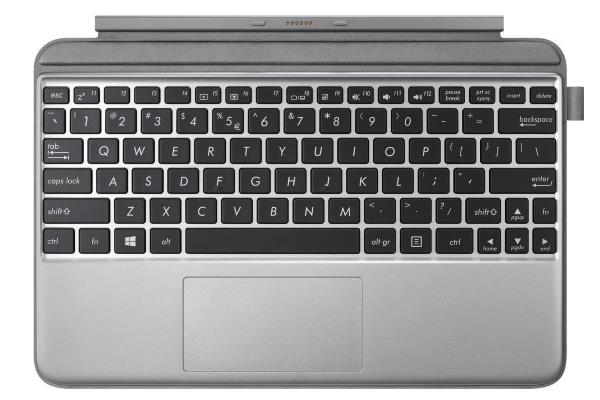 Buy on NewEgg
Check price on Amazon
Keyboard, Pen & TrackPad
The keyboard is small due to the small size of the laptop, but still, you do get used to typing on it. The quality of the key is acceptable, but you can feel the plastic quality of the keys while typing.
If you have large hands, you may feel a bit cramped, but thanks to my smallish hands, typing on the keyboard was manageable and, I must say, pretty good for a laptop of that size. At times, you end up pressing the wrong key, but that is something you need to get used to. There is also a kickstand on the tablet that you can pull out the back to hold it on a table.
The trackpad on the keyboard case is accurate and supports a few gestures like scroll up-down and forward / backward. If you want to click using the trackpad, that will take some effort as the trackpad flexes easily.
The Asus Transformer Mini also comes with a useful pen for drawing or taking notes. While it's not as good as the higher-end 2-in-1 notebooks that come with one, it's still a welcomed, useful feature.
Software
The Asus Transformer Mini T102HA comes pre-installed with Windows 10 Home.
There are not many pre-installed apps on the laptop making it one of the least bloatware affected laptop.
Final Words
The Asus Transformer Mini T102HA is a good tablet for most of the users who want a full Windows 10 laptop that can do basic things including MS Office, writing emails, web browsing and stream content without any problem. All that, while providing a solid & portable notebook with an impressive battery life.
The Asus Transformer Mini T102HA gets the display, battery, speaker and the software boxes checked right. The only thing that may turn some users off is the low-performance processor and the keyboard that is pretty cramped for large size hands.
Other available versions

10.1" HD, Intel Cherry Trail with 4 GB of RAM, 128 GB eMMC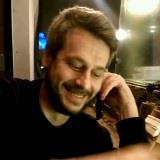 Erik is the owner and main editor of lptps.com. He has been working in computers and information technology for more than 20 years. He's a business analyst, developer, and avid traveler.