If you are looking for an affordable, slim and lightweight laptop that you easily can carry around, definitively look at the Asus ZenBook UX305UA. It's is a fierce competitor to all the ultra-thin laptops on the market.
With a great 13.3″ screen, a lightweight body and a battery that lasts longer than your average workday, it's a low price, good quality option. Asus made a very popular lightweight, quality and balanced product here.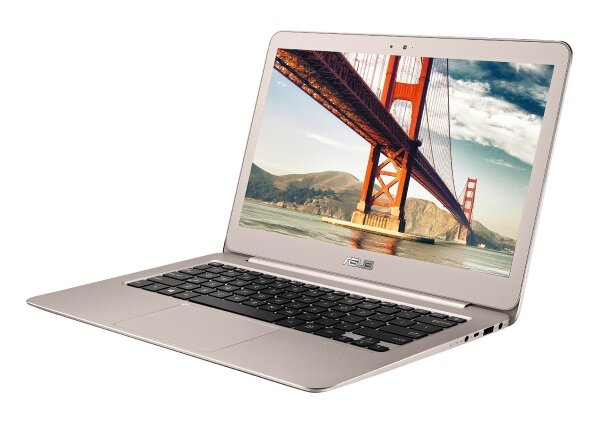 Quality ultraportable for an affordable price
BEST FOR
PROS
Great HD Screen
Premium look for non-premium price
Build Quality
CONS
Sound system is feeble
No touchscreen or backlit keyboard
87%
Great value ultra thin laptop
QUICK SPECS
13.3" HD screen (1920 x 1080)
Intel i5 with 8GB of RAM
256 GB SSD
0.63″ thick / 2.9 lbs
Battery life of up to 12 hours
Price range: $$$
Detailed Asus ZenBook UX305UA Review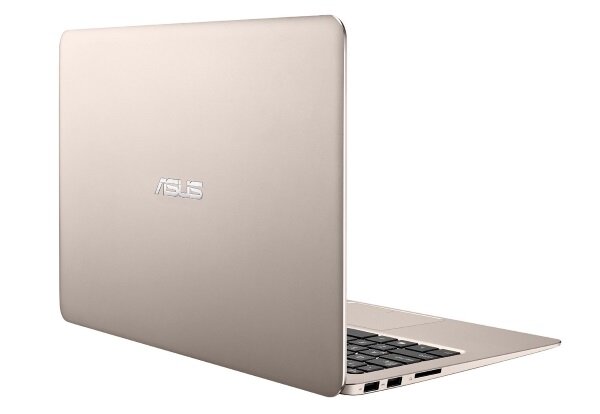 The Asus ZenBook UX305UA is definitively a great choice and a market's favorite. Compact, light and sturdy, it delivers a lot of value for a very reasonable price.
Design
The Asus ZenBook UX305UA looks a lot like the MacBook Air. The brushed all-aluminum body looks stylish and like a premium laptop. The 13.3″ HD screen is mounted on a compact frame that is sturdy enough to withstand the not-so-gentle users. The build quality lives up to Asus' good reputation. At 2.9 lbs, it's not the lightest ultra thin laptop on the market, but still light enough that you can put it in your bag and forget it's there.
Performance
With an Intel i5 processor and 8 GB of RAM, this ultra thin laptop is at par with the market and will output more than enough power for the average user. Other than for specialized usage, you won't need more RAM or processor power. So no problem doing work, homework, accounting or meetings with this laptop, it won't lag behind.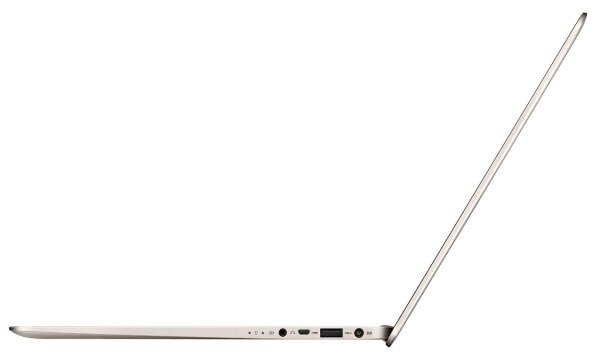 Graphics
With its 13.3″ matte HD screen, you'll be able to work for hours or watch movies, even in direct sunlight. The screen is bright, colorful and of good quality.  At par with the rest of the – often more expensive – competition, it has an integrated video card that doesn't process 3D very well, so don't expect to be able to play games or do any demanding video editing with the Asus ZenBook UX305UA.
Storage
With a 256 GB SSD hard drive, Asus made sure that its computer would be lightning fast. In combination with other performance factors, you will be impressed if your current laptop is a few years old: Windows will booth in seconds and the laptop will be responsive. At 256GB, it might not be enough to store all your pictures, but it's a standard size for that kind of laptop. You'll simply have to get used to using online options for storage!
Battery
The battery life is quite impressive. You can leave the charger at home, the battery should get you through the day and then so. With up to 12 hours, it should easily last you 9 hours of continuous work.
Sound
The sound system is where this laptop looses points. It's going to be enough to watch movies and listen to music, but don't expect to host a party with these speakers.
Keyboard & Mouse
Even with its very compact frame, the Asus ZenBook UX305UA has a full-size keyboard and a comfortable touchpad. Unfortunately the keyboard is not backlit.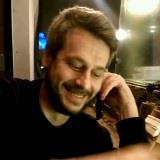 Erik is the owner and main editor of lptps.com. He has been working in computers and information technology for more than 20 years. He's a business analyst, developer, and avid traveler.