Lenovo is among the largest laptop manufacturers in the world and with the launch of the Lenovo Miix 320, the company is claiming to offer a low-cost hybrid 2-in-1 with good value for money.
But, how well does the claim stands when the machine is put to the test? In today's review, we find the good, bad and if the Lenovo Miix 320 is worth your money.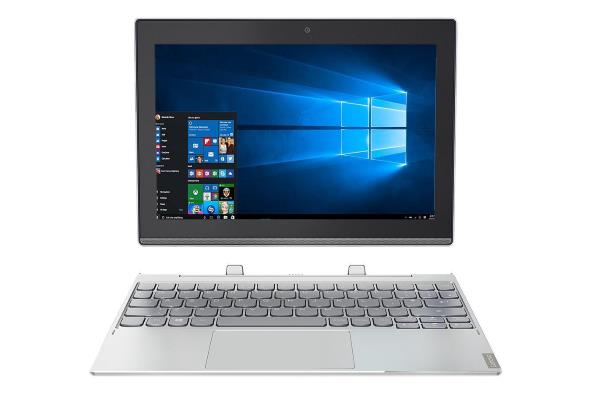 Affordable 10" Hybrid with Good Design, Display & Audio
BEST FOR
Students
Casual users
Light multitasking & video streaming
PROS
Good battery life
Good Audio
Full HD Screen
CONS
Cramped Keyboard
Lots of Bloatware
Gets Warm and Uncomfortable
81%
Great Budget Detachable
QUICK SPECS
10.1" HD (1900 x 1200)
Intel Atom with 4 GB of RAM
64 GB eMMC
Up to 10 hours of battery life
0.7" thick / 2.2 lbs
Price range: $$
Detailed Lenovo Miix 320 Review
The Lenovo Miix 320 is a good value for money budget 2-in-1 laptop that offers excellent battery life and solid audio for the price. It's equipped with full HD 10.1-inch touchscreen display that offers good visibility and decent color reproduction.
The design of the laptop is derived from a more premium Ultrabook series like the Apple's MacBook Pro, but the cost-cutting is visible as soon as you get hold of the laptop and feel the plastic build of the device.
The keyboard of the device doesn't offer great comfort for a seasoned writer with typing skills. However, for a casual user and as a laptop for school, the keyboard wouldn't be a big problem.

Design
As I said earlier, the Lenovo Miix 320 looks like a premium ultrabook which is pleasing to the eyes. However, the build of the machine is half plastic and half metal.
Since this is a 2-in-1 device, the Full HD 10-inch display can be detached to be used as a tablet. One drawback of the design is that when we tried to detach the display from the keyboard, it needed more than the required force which is a bit of a bummer.
The Lenovo Miix 320 weighs around 2.20 lbs including the keyboard which isn't very light for an Ultrabook that only offers 64 Gigabytes of eMMc storage and integrated graphics but for the day to day use the user won't find it bulky or uncomfortable to carry around. Since most of the hardware is stuffed within the display, the upper side feels a bit heavier than usual.
Performance
Lenovo Miix 320 comes equipped with an Intel Atom x5-Z8350 1.44 GHz coupled with 4 GB of RAM. The hardware combo offers a moderate amount of multitasking power and wouldn't lag even if you run multiple instances of chrome simultaneously.
However, we noticed a slight lag while streaming YouTube videos at 1080p along with multiple instances of Chrome running simultaneously. The processor is also capable of running Blu-ray movies with MKV format fine and you can also run Microsoft Office without any lag.
Screen & Graphics
The Lenovo Miix 320 comes packed with a 10.1-inch touchscreen IPS display with full HD resolution. The screen does a good job of displaying colors with a good black output.
Since the screen is an IPS display panel, you can expect good viewing angles. The display is also brighter than most of its competitor in this segment. However, in the bright sunlight, the display gives up on the user due to poor visibility.
Talking about the graphics performance of the Lenovo Miix 320, it has an integrated Intel HD graphics 400. The graphics card can play games like Minecraft with 20FPs and other low-end games in medium settings. Don't expect it to run latest AAA titles since it isn't a gaming laptop.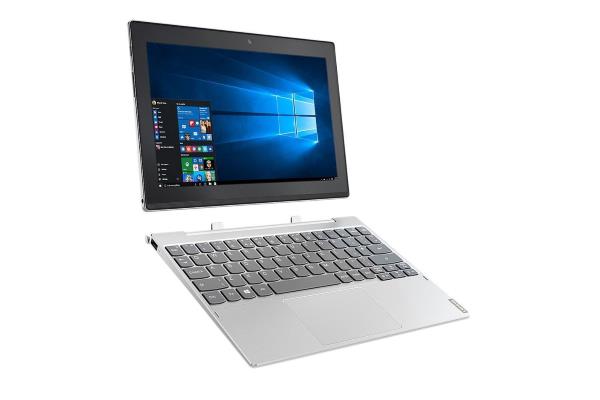 Storage
One of the plus points of Lenovo Miix 320 is its storage. Even though it only offers 64GB of eMMC inbuilt storage, the reading and writing speed is blazing fast on this device. The laptop boots instantly and the applications open faster than you would expect from a laptop with Intel Atom processor.
The 64GB eMMC storage drive can copy a 5 GB file in 1 minute 30 seconds. You can also connect external SSD or HDD for storing your large media files.
Ports
The Lenovo Miix 320 offers a good amount of connectivity features including USB C Port and a Micro HDMI ports. You get:
2 x USB 2.0
1 x USB C
1 x SD Card Reader
1 x Micro HDMI port
1 x 3.55 mm Audio Jack
One you point you may want to note is that the USB C port running USB 3.0 is only a read-only port. Which means you cannot charge your Laptop using the USB C port nor can connect any display device.
Battery
One of the strongest points of Lenovo Miix 320 is its battery. The battery can last up to 10 hours with moderate usage, and you make through the day without having to take the charger out of your backpack.
Audio
After battery, what impressed us the most is the audio. It comes with stereo speakers that are loud enough to fill a mid-size room and clear enough to hear the audio without any distortion. The speakers are placed on the front of the display which helps in getting louder sound than speakers placed at the bottom of the keyboard.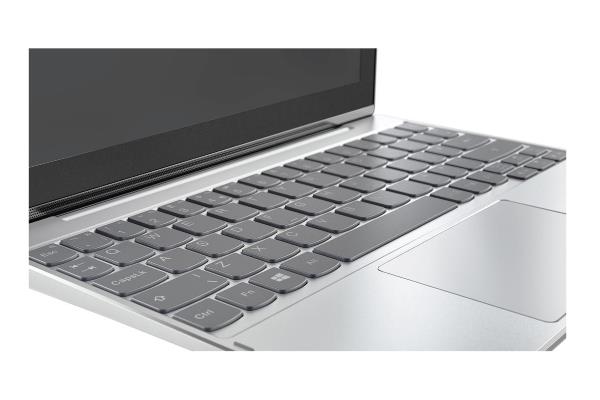 Keyboard & Mouse
The Lenovo Miix 320 comes with a metallic keyboard, and the keyboard itself isn't very great for writers who write multiple pages a day. However, for casual word processing, it will work fine. The arrow keys need to get used to so are the function keys. The keyboard offers 1.2mm of key travel which is a bit shallow in comparison to an ideal keypad which should offer key travel between 1.5mm to 2.0mm.
The keyboard also does not have backlit feature, which you don't expect from a laptop in this budget anyways.
The trackpad, on the other hand, offers precise input and makes it easier to navigate on the screen. The two-finger scrolling and three-finger gesture swipe also work flawlessly.
Software
The Lenovo Miix 320 comes pre-installed with Windows 10 Home which is more than enough for a casual and day to day use. However, Lenovo has also included set of its own software, and third-party apps which you need to uninstall as most of them are only eating up the storage space.
Final Words
The Lenovo Miix 320 is a 2-in-1 laptop that offers one of the best value for money you can get today. You get a good display, solid sound quality and an impressive 10 hours battery life. It also gets some bits wrong, including the cramped keyboard, the heating issue, a bit of bulky screen, and lots of unwanted bloatware.
If you are in the market for a well-built hybrid laptop that offers good value for money then the Lenovo Miix 320 can be a good choice.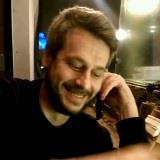 Erik is the owner and main editor of lptps.com. He has been working in computers and information technology for more than 20 years. He's a business analyst, developer, and avid traveler.