Nowadays a laptop is an essential need for any individual, whether it is a student, employee or a business owner. And affording a laptop these days is not really a big deal because there are many top laptop brands that are offering their best mini laptops for around $300. This is great news for people who can't afford expensive laptops. Laptops under $300 are usually between 10-11 inch and they are mostly known as Netbooks. These kinds of netbooks may not be able to replace your desktop computer, but they can be extremely good for using basic computer features like internet surfing, project work, typing, music, movies, and so on.
Right now laptops under 300 bucks are getting lots of attention and that is not just because of its price but also because of their specs which are usually 1-2GB RAM, 160-320 GB hard disk space and other regular specs except processor which is not that great in mini laptops. They can surely be anytime better than Android tablets which can run only limited number of applications. Best deals of laptops under $300 can be certainly found on the internet because online sellers sell them for a lot cheaper than local stores because they don't really have to pay shop rent or salaries to their staff. Also you should not expect to run high resolution games, graphics designing or video editing in these kinds of low budget laptops. Anyways, so let's check out the best and new laptops you could buy online for less than 300 dollars.
Updated version here
10. ASUS X101-EU17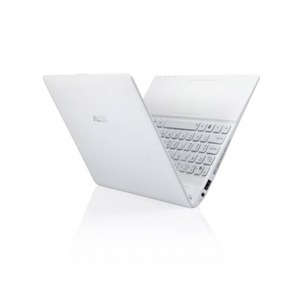 This netbook definitely is one of the perfectly optimized laptops and is tiny enough to fit in your purse easily. It includes Intel Atom processor of 1.33 GHz, 1GB DDR3 RAM and all other basic features. Best and most popular thing about Asus mini laptops is their very good battery life which can last for more than 8 hours and it comes for a surprisingly affordable price. So if you are looking for something which is small enough and can handle your simple work then Asus mini laptop can be really perfect for you. And by simple work, I mean just browsing, music, movies and so on and not the work of editing videos and photos.
9. Acer AS5250-BZ641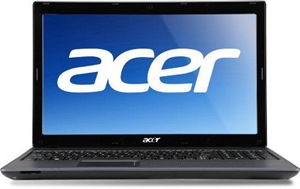 This laptop from Acer is of 15 inch and does not come under the category of Netbooks. Well, honestly it can be really hard to find a laptop under $300 and Netbooks are pretty much easy to find. However, this model from Acer can be a top notch laptop for an affordable price. It features Genuine Windows 7, Dual Core processor, 3GB DDR3 RAM and 256 MB ATI Radeon Graphics card. Other than these it includes all other basic features of laptop. So in case you are looking for an affordable 15 inch laptop then this surely is the ultimate piece you want to grab.
8. ASUS A53U-EH11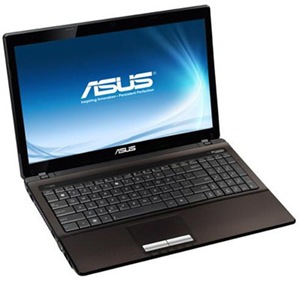 This model from Asus is rarely found on Amazon and is mostly out of stock. Anyways, it can be really the perfect laptop for low price. It features 15.6 inch screen, Windows 7 OS, 3GB RAM and 320GB hard drive. It is powered by AMD dual core processor of 1.33GHz. Yeah, this one is very much similar to above laptops and can be found for around $300. And, by the way ASUS is a huge brand and doesn't really need an introduction so you can easily rely on this laptop which comes for a good price.
7. HP Mini 110-3730NR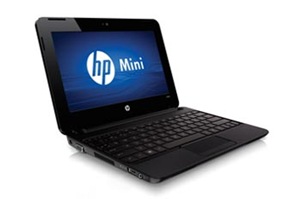 This mini and beautiful laptop from HP can be a perfect choice if you are low on budget. This one is a netbook in case you are thinking of it as a laptop and comes in couple of different colors, but black is the most preferred one. It includes 1GB DDR3 RAM, 250GB hard drive, Windows 7, 8 hours battery life and is powered by Intel Atom processor of 1.66 GHz. It can handle a few HD games and multi-tasking can be done pretty easily on this Mini HP laptop.
6. Acer Aspire One 722-BZ197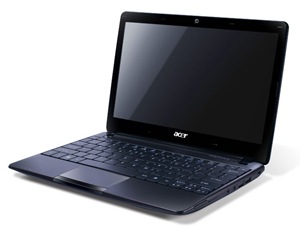 This one is yet another Netbook which is preferred in black color and you can use it for long enough. Acer Aspire One 722-BZ197 comes with 2GB DDR3 RAM, 250GB hard disk space, Windows 7 and AMD processor. Other than these specs, this Netbook also features AMD Radeon High Definition graphics card. So in case you are having a hard time finding a perfectly built laptop according to your budget then this model from Acer Aspire series can be very much suitable for you.
5. Toshiba NB505-N508BL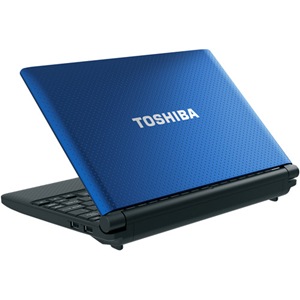 This 10 inch Netbook from Toshiba comes in two stylish colors which are blue and turquoise and it can surely be a perfect alternative to Asus Eee PC series Netbooks. Well, I think it's better than those Asus mini laptops because there are few better things which should be considered like its Intel Atom processor, 250GB hard drive and Windows 7 starter. So if you keep travelling around then this Toshiba Netbook can definitely be your best secondary laptop to use while travelling or at some place outside.
4. Acer Aspire One AOD270-1824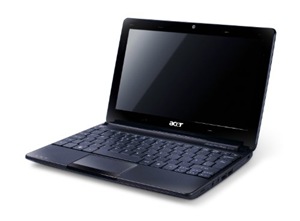 This one is another Netbook from Acer Aspire series which comes in more than 4 colors which are black (most preferred), blue, white and red. It features Intel Atom processor, 1GB RAM, 320GB hard drive and Windows 7 Starter pack. So if you are looking for an eye catching and stylish laptop then this is it. Right now there are few left in stock if you check Amazon but most of times it is out of stocks just like other Netbooks from Acer.
3. ASUS 1025C-BBK301 Eee PC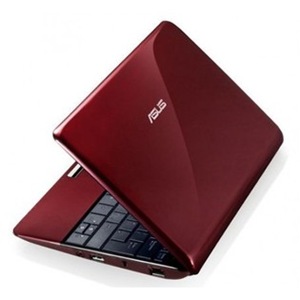 Finally, something that is available for an exact price of $300. Yeah, this netbook from ASUS Eee PC series can be easily affordable and is extremely lightweight and compact. It surely is recognized for its great battery life which is more than 10 hours with one charge. This stylish mini laptop also comes in few dazzling colors which you can find out before buying. Specs of this laptop from Asus are as usual and it comes with 1GB RAM which can be upgradable up to 2GB. Hard disk space is 320GB in this 10 inch laptop which can be extremely helpful.
2. Dell Inspiron Mini 1018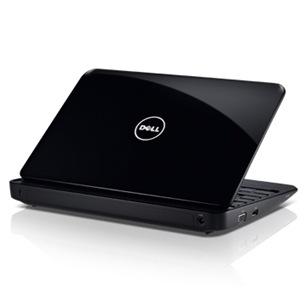 Dell Inspiron Mini 1018 is clearly one of the most popular Netbooks in the market and is built from its previous model 1012. This mini laptop from Dell can really fit into anyone's budget and only thing you might want to know about it is its hardware. It includes 1GB RAM, Intel Atom processor and Intel graphics card 3150. It comes with pretty much everything you'd expect from a standard netbook and can be found easily at nearby local stores.
1. ASUS X101CH-EU17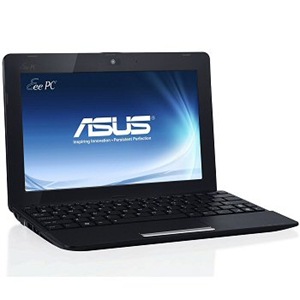 Another laptop that is mostly preferred in black color. This one is also a model from Asus Eee PC series and comes in two colors, black and white. All features are extremely similar to ASUS 1025C-BBK301 and only difference I can see between them is processor and this one is a little bit advanced version. Anyways, specs of this netbook from ASUS are 1GB RAM, 320GB hard drive, Windows 7, Intel Atom 2600 processor of 1.6 GHz and 3 USB ports. So if you are sure about what you want in your new laptop then you can find pretty much everything in this laptop and that too for less than 300 dollars.
Right Manish, you get what you pay for but however ASUS laptops have proven them worth and in case someone is really tight on budget then they can get ASUS Eee PC laptop for under $300.

I recently bought Dell Mini Laptop of Inspiron series for around $250 and if you ask me that's the best laptop you can get for under $300 or well, Eee PC is also a good option.

Hi Nick,
Dell Inspiron Mini must surely be a good laptop since you say so with personal experience, I personally never had any experience with these kind of cheap laptops and netbooks, so thanks for your input. It definitely will be very helpful for our readers to find best laptop under 300 bucks.

Great post Preetam, I ordered ASUS Eee PC (white) from Flipkart for around $300 just after reading your opinions about it, and let's see how it actually is in reality.. will let you know more about it once I get it in my hands..

Thanks for your comment Swaroop and I'd really love to read your thoughts about it since I am about to buy an affordable laptop for my little sister and ASUS Eee PC looks like a perfect option due to 2GB RAM and pretty decent hard drive. And about Flipkart, you've made right choice and trust me you'd be amazed to see how fast they deliver their products.

Most of these are netbooks and in my opinion you can't call them best affordable laptops, but well, what else can you get in $300? I guess these are the only best you could get for that price.

Hello Preetam, nice article you've written here and I am looking for a laptop that comes for around $300 for my little sister.. but still confused about these netbooks.. are they really worth? can they survive 2-3 years? I am not so sure about them and if they're not worth then I can afford to buy a decent laptop under $500.. lemme know your opinion about it..
thanks,
Sagar

@ Sagar, yeah these kinds of netbooks can easily survive about 2-3 years if used appropriately, only problem within these laptops is that they can't handle applications like photoshop, video editors, hd games, etc.. other than that, they are perfect little devices..

I recently bought a laptop from ASUS Eee PC series model no. 1015CX for $250 which comes with 2GB RAM, Dual-Core processor and 320GB hard drive.. but seriously there is something wrong with it, performance is not good as it should be.. all I can do is only browsing or watch movies, etc. I guess that is why they call it a netbook and not laptop.. anyways, lesson learned, for people looking for cheap and affordable laptop out there, always go for laptop, never for netbook..

Hey Preetam,

What do you think of the new version of google Chromebook for $250?

These all devices you've listed under $300 are certainly not laptops but netbooks and I think there's a huge difference between laptops and netbooks.. anyways, if you're looking to buy a decent laptop for around $300 then I suggest you to go with Samsung chromebook.. currently it's the best..

Hi this is jhon, can you please tell me what kind of laptop computer is best for games?

Definitely not the ones that come for $300, if you want a laptop for playing games then you should consider a reliable processor, good enough RAM and a decent graphics card in your laptop.

You need to update this. ASUS has a 15.6″ for $250 w/320gb/4gb mem, at BestBuy and it just came off of sale $11 below that. Toshiba has a 14″ for under $300.

If anyone wants to buy a Black ASUS 15 inch laptop email me back. I'm Looking for $250 since I bought it for $300.

Hi
how about asus 1015 E ?

acer is best overall,thanks for recommending me.

you better watch graphics chip and dedicated video ram, they are too small..

you people better watch out their graphics chip and video dedicated ram, the rest properties can easily be modified but honestly i like acer AS5250..

I'm not really interested on those laptops but asus AS5250 LOOKS GREAT!!!

What about the Dell Inspiron 15, the Toshiba Satellite C55, the Acer aspire E 15, and most of the Chromebooks?

You've made a nice list of laptops here but I think there are plenty of new devices available these days and one can find even better options on the internet for laptops under $300. Also it's a good idea to buy a netbook or chromebook which is really popular these days.

@ Sanket, you're right about new choices available and that is why our team has already started preparing to update this article with latest laptops under $300. Check it out again in 2-3 days to see new devices.