Note that this is an old post.

For the most recent information, see this post on the Best Hybrid Laptops on the market!
So after waiting for a long time, finally Windows 8 has officially released and of course you can run it on your traditional laptop, but the best thing about Windows 8 is that, it is especially built for touch screen devices. That is why almost every top laptop brand has launched their best Windows 8 devices which are known as Laptop-Tablet Hybrids. These kinds of Hybrid devices are combined with Laptop and Tablet which can become a killer combination of touch screen laptop. Other than smooth touch screen they also sport full-size keyboards, so you surely are getting best of both.
These types of Tablet-Laptop Hybrids also have few other names like laplets, tabtops, hybrids, Windows 8 devices and of course touch screen laptops. Lately many college students are in need of laptop and also a tablet for their studies, but wouldn't it be best if they could get both in one? Of course, yes, and here is also your chance to save money by buying just one hybrid device. That's the reason Windows 8 Laptops are going to be massive hit in 2013 and maybe couple of upcoming years. Anyways, let's get started with list of best Windows 8 Laptops for this year.
10. ASUS Transformer Book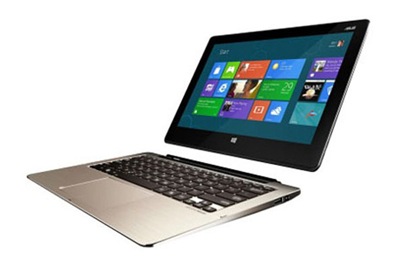 ASUS Transformer Book is a brand new hybrid Windows 8 laptop from ASUS which can be easily transformed to tablet anytime. Special thing about this laptop is that you can detach its keyboard anytime and use it as tablet. This 13-inch ordinary laptop comes with Core i7 processor and 128GB SSD within the tablet and additional 500 GB hard disk in keyboard. Other than these specs it features 8GB RAM, two 3.0 USB ports battery life of more than 6 hours. Even without entire set, only tablet has enough power to handle most of your applications and other heavy tasks. So in case you are looking for a low weight hybrid laptop then ASUS Transformer Book is especially made for you.
9. Lenovo ThinkPad Helix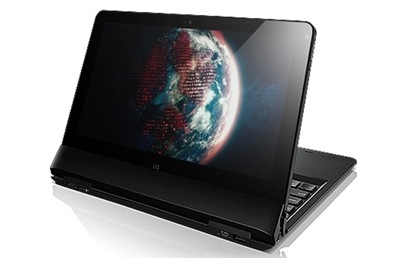 Lenovo ThinkPad Helix is an old style 11-inch tablet laptop that still possesses professional and sleek design. Screen of this laptop or you may want to call it tablet can be detached from it anytime, and to use tablet you have to attach it again facing backward. This brand new Windows 8 laptop is mostly known for its battery life which is more than 10 hours and it comes with Core i7 processor, 250GB SSD and 8GB RAM and you'll be glad to know that this hybrid laptop from Lenovo includes everything you'd ever expect from a desktop computer.
8. Samsung ATIV Smart PC Pro 700T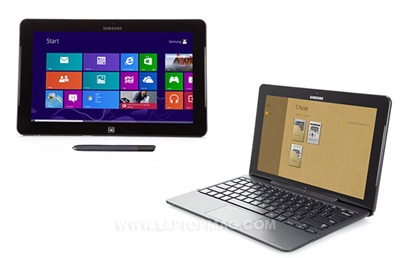 This 11-inch hybrid laptop from Samsung runs Windows 8 like a pro without any hassle thanks to its Core i5 processor and Intel HD graphics 4000. Right now it is priced over $1000 and while using its tablet you can use all applications of Samsung Note. Other than excellent processor it features 4GB RAM, 128GB SSD drive, Genuine Windows 8 and 5 Mega Pixel Camera. This new Samsung Smart PC is mostly known for fast booting, appropriate keyboard and dock for stylus. After releasing Samsung Galaxy S3 we have seen a huge raise in Samsung fans so in case you are looking for a laptop or tablet from Samsung then here is your chance to grab the best piece of gadget from Samsung so far.
7. ASUS Vivo Tab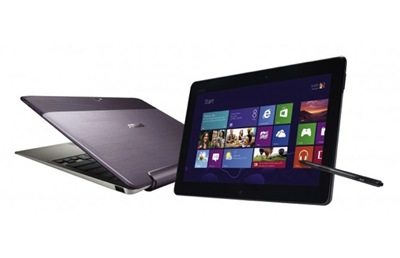 This brand new hybrid laptop from ASUS is definitely the most recommended Tablet-Laptop since it features a whole lot of latest attractive features such as keyboard dock, SonicMaster technology and scratch proof screen. Other than these amazing features it also supports stick input with more than enough sensitivity. Two cameras are included within the tab which is 8 MP and 2 MP. If we talk about its design, then you can consider it extremely light and thin. Technical specifications of this tablet-laptop are simply ideal just like any other Windows 8 laptop in this list and it includes 2GB RAM, 1366×768 display resolution, 32GB SSD in tablet and 1.3GHz quad-core processor.
6. Samsung Series 7 Hybrid Slate
This latest hybrid laptop from Samsung for Windows 8 is also known as ATIV Smart PC Pro and is designed very well for tablet-laptop PC. At this time, price tag of this Windows 8 device is around $1200 but obviously it is worth that because of its 1920×1080 display resolution which is ideal in 11 inch tablet. Aside from these specs, it includes 128GB SSD, 4GB RAM, Intel Core i5 processor and Intel HD 4000 graphics. Well, yeah it can be pretty much expensive while comparing it with other ultrathin laptops but after all you're getting a Samsung Slate which is no joke and you can rely on it for years.
5. Dell XPS Duo 12
This whole new stylish laptop from Dell is especially known for its screen which can rotate in frame, so users can easily flip the screen and use whatever they want, laptop or tablet. This device is the new version of Inspiron Duo, however they have upgraded their screen size from 10-inch to 12-inch and it still delivers full HD bright resolution of 1920×1080. Specs of this new hybrid laptop from Dell can be quite similar to their older model since it features 4GB RAM, 128GB SSD, Intel Core i5 processor of 1.7 GHz and HD Intel graphics 4000.
4. Microsoft Surface Pro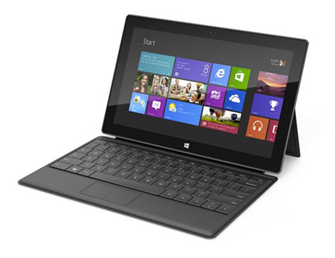 Here comes the initial Windows 8 device from Microsoft solely built for Windows 8. This 10 inch hybrid laptop features Intel Core i5 processor, 4GB RAM, Full HD resolution and 128GB SSD. The Surface Pro was revealed last year in October and had gotten pretty good response from consumers. Even though Microsoft is not that big brand when it comes to Laptops and Tablets, but this Surface Pro can surely be compared with any Intel Ultra-book or ARM tablet. Sure thing about this Pro hybrid laptop from Microsoft is that it contains absolutely zero bugs since the hardware manufacturer and software manufacturer is the same brand.
3. HP Envy x2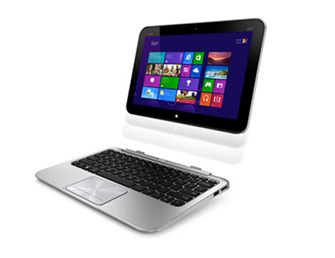 After manufacturing few best i7 laptops finally HP Envy has stepped into Tablet-Laptop hybrid industry. It comes with an 11-inch tablet which can be excluded entirely from keyboard and has its own battery. Best thing within this new device from HP is definitely its Beats Audio technology and its 12 hours battery life. Right now it is priced for around $800 and it features 2GB RAM, 64GB HDD, 8MP CAM, Intel Atom processor of 1.8 GHz and genuine Windows 8. So in case you are looking for some tablet-laptop hybrid which is lightweight and eye-catching then HP Envy x2 is exactly what you need.
2. Lenovo IdeaPad Yoga
This ordinary laptop from Lenovo has been is the industry for a while now and that name Lenovo IdeaPad Yoga totally suits on it since this device is extremely flexible. Screen of this hybrid Windows 8 laptop can be folded up to 360 degrees and can be converted into a whole new tablet. It can be used as Laptop or Tablet without any hassle and can function all the time using its all resources even from the keyboard part of device. It features Intel Core i7 processor, 8GB RAM and 256GB SSD which is too good for a hybrid Windows 8 laptop. Besides all these, it also boasts a battery life of around 8 hours which is not really bad for this kind of tablet-laptop.
1. Toshiba U925t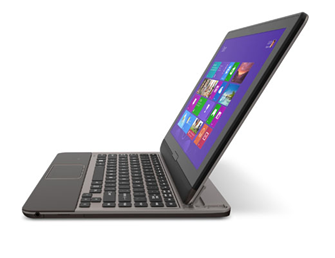 Toshiba U925t is surely one of the best and very smartly designed laptop-tablet hybrids. It is very much like a sliding mobile phone whose screen can be dragged from bottom to top. Anyways, about specs, it comes with Intel Core i5 processor, 3 MP camera, secondary battery and 8GB RAM. Lately everyone is after this device from Toshiba since it features everything you'd want from a tablet or laptop. This device is soon to be released and Toshiba hasn't even revealed its official price yet, but according to many experts it will seen in stores for around $1200. So if you really are looking for a hybrid device which you can use at home and at work too without carrying much weight, then be sure to check out this model before buying your laptop-tablet hybrid.