HP has been a pioneer in creating an incredibly thin and well built laptop. The HP Spectre is truly one of the best slim laptop on the market – it was the slimmest before the Acer Swift 7 beat it as its own game. While its quite expensive, it's really a great, quality laptop. It has some flaws, but who's perfect right?!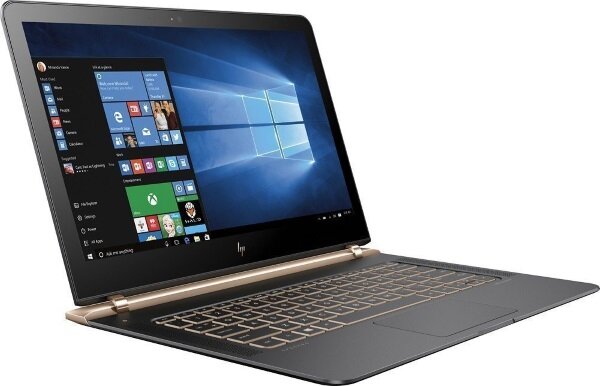 Quality Stylish (expensive) notebook
BEST FOR
PROS
Awesome thin design
Great screen
CONS
QUICK SPECS
13.3" HD screen (1920 x 1080)
Intel i5 2.3 GHz with 8 GB of RAM
256 GB SSD
Windows 10 Home
Up to 9 hours (expect 6)
0.41" thick / 2.45 lbs
Price Range: $$$$
Detailed HP Spectre 13 Review
As one of the major laptop sellers in the world, HP has produced all kind of laptops over the years. From the worse to the best. The HP Spectre 13 is definitively part of the latter. It's really a great laptop with few flaws. Its best features are its awesome screen, good audio and landmark design that will make eyes turn everywhere you go. Performance on the HP Spectre is really good – even more if you go with the i7 processor – and the SSD hard makes it speedy fast.
Design
Oh wow, what a great design the HP Spectre 13 has. It's one the slimmest laptop on the market with its 0.41″ thick body (that is thin!). It's a well engineered and high quality frame that feels solid when you hold it. It's as light as you can get and definitively looks premium with the gold and black metal body. Maybe the only bad thing to say about it is that it runs pretty hot and therefore fans are often active and can get noisy.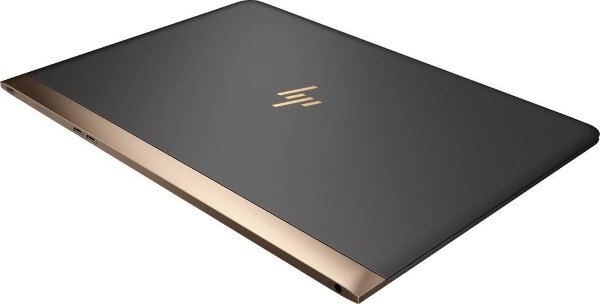 Performance
This version of the Spectre comes with an Intel i7 processor with 8 GB of RAM, which is one of the fastest processor on the market with enough RAM for almost everyone. This version will allow you to heavily multi-task, watch hi-resolution movies and will take pretty much anything you throw at him (it's not good for gaming though).
Screen & Graphics
Oh my. What a screen. That 13-inch really offers clear & vivid colors, and high brightness. It's really a pleasure for the eyes. Glossiness might be a problem though if you often work in sunny rooms and there is no touchscreen available.


Storage & Ports
The 256 GB SSD hard drive offers speedy performance and ultra fast boot time.
Ports might be a problem if you need a lot since you do get less than some others – thicker – laptops. HP provided 3 USB-C ports. While it's better than let's say some Apple products, it might be an issue if you often use classic USB keys or need HDMI.
Battery
Battery life is quite disappointing. While HP claims it will last 11 hours, in real life that won't happen. Expect a 6 hours, so not enough for a full day of work. So if you go for the day, you'll have to bring the charger. That takes away some of the benefits of having an ultra thin and light laptop.
Sound
With its Bang & Olufsen speakers, the HP Spectre 13 has speakers that sound pretty good. They will fill a medium room with rich and clear sound. Of course, it's still a laptop so don't expect that much bass or to be able to have a house party with it. But as far as laptop speakers goes, they sound great even if they're not the best on the market.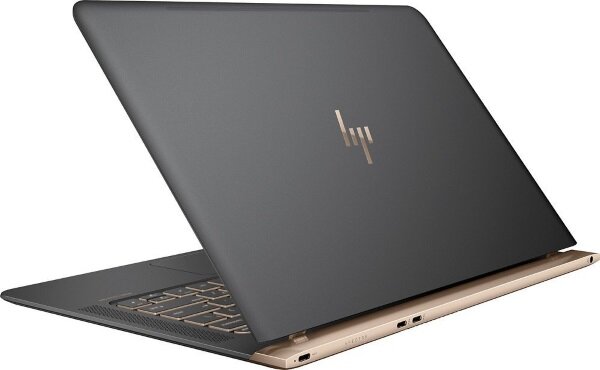 Keyboard & Mouse
The chiclet keyboard is good, responsive and backlit. There, HP managed to create something good. Because of the heating problem, it does become a little warm after a while though. Nothing too uncomfortable, but you will notice it. The glass trackpad is also good and responsive, even if the ones on Apple products are better.
Other available versions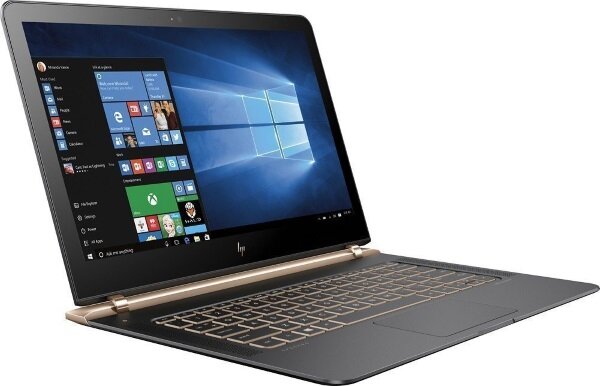 13.3" HD, Intel i7 with 8 GB of RAM, 256 GB SSD


13.3" QHD, Intel i7 with 8 GB of RAM, 256 GB SSD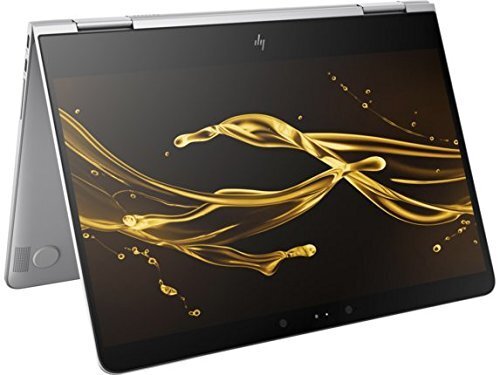 13.3" HD, Intel i7 with 8 GB of RAM, 256 GB SSD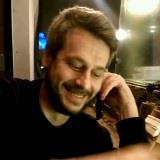 Erik is the owner and main editor of lptps.com. He has been working in computers and information technology for more than 20 years. He's a business analyst, developer, and avid traveler.