Pictures don't really do justice to the Acer Swift 7. Acer really built a quality laptop that looks amazing here. You have to hold it in your hands to see how beautiful, thin and surprisingly sturdy it is.
It's the slimmest laptop ever made – until the next one because the laptops manufacturers clearly are on an epic battle right now! It's even slimmer than the HP Spectre and you won't be disturbed by its noise since it's fanless. And it still manages to stay cool.
But not everything is perfect. It's definitively a contender in the ultra-thin market, but as much as I wanted to absolutely love this laptop, not everything is as good as its look.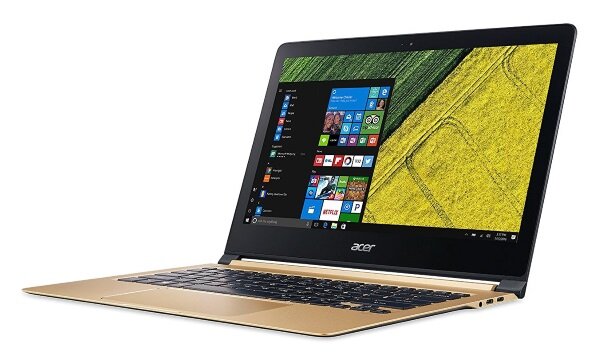 Premium ultra (ultra) thin
BEST FOR
PROS
Astonishing look
Fan-less, quality design
CONS
Lower than average performance
Keyboard should be improved
78%
Amazing look & design with flaws
QUICK SPECS
13.3" HD screen (1920 x 1080)
Intel i5 with 8 GB of RAM
256 GB SSD
Up to 9 hours of battery life
Windows 10 Home
0.4" / 2.48 lbs
Price Range: $$$$
Detailed Acer Swift 7 Review
Look, thin design and screen quality are the areas where the Acer Swift 7 is doing great while performance and keyboard quality its two biggest flaws. As much as I wanted to love this laptop, I must say that I simply like it.
The screen is too glossy for my taste even if the quality is pretty good and the battery life is only average. But what a look! I would choose this laptop if I was mostly working in a not too bright environment and I had to carry it around often (if you are often in a plane, definitively consider the Acer Swift 7).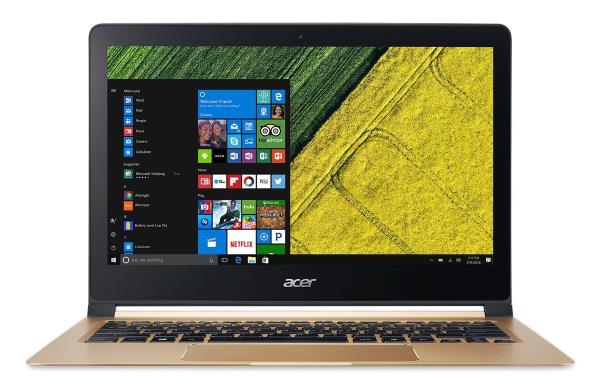 Design
I will repeat it over and over: you will love the look of this laptop. I'm usually not a fan of gold designs – I prefer a more conservative look – but in this case Acer hit a home run. With is oh-so-thin look and premium gold and black body, it'll definitively turn heads and screams premium laptop.
Also, the build quality on par with the look: great. How they build such thin and sturdy laptops nowadays amazes me! The Swift 7 is a fan-less design, so it's as quiet it can be. And stays cool. This comes at the expense of performance, but not that much.
Performance
The Acer Swift 7 performance is lower than the average competitor. This is probably a consequence of the fan-less design that needs to keep power low. That's a trade-off I'm willing to accept since it still handles heavy multi-tasking quite well and streaming a high-resolution movie is not an issue.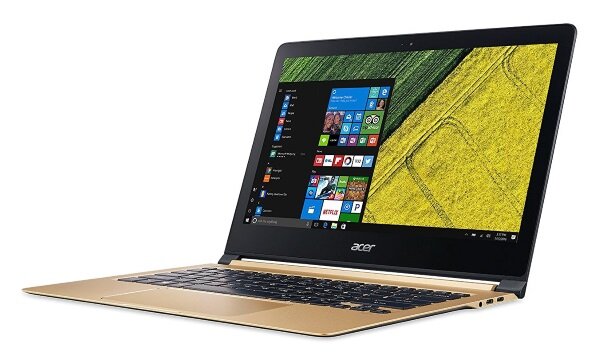 Screen & Graphics
Equipped with a 13.3″ display, the screen quality is pretty good, colors are vivid and brightness is quite high. Unfortunately, it has a Gorilla glass layer which makes it sturdier, but also really glossy. As glossy as touchscreens are, even if it's not. This will be annoying when working in bright environments. All in all, it's a great screen that loses points because of the glossiness…
Storage & Ports
The hard drive is a 256 GB SSD, pretty much the hard drive all the competitors have. Ports-wise, Acer copied the Apple way… I blamed Apple for the lack of ports on their laptops and I certainly don't like it here as well. Even thought they did a little better by giving you 2 USB-C ports, it's still not a lot. But since they produced the thinnest laptop on the market, I'll forgive them.
Battery
Despite a rather small battery, the Acer Swift 7 performs quite well in this area. It could be better, but it should last between 7 to 8 hours under normal use, which is quite good.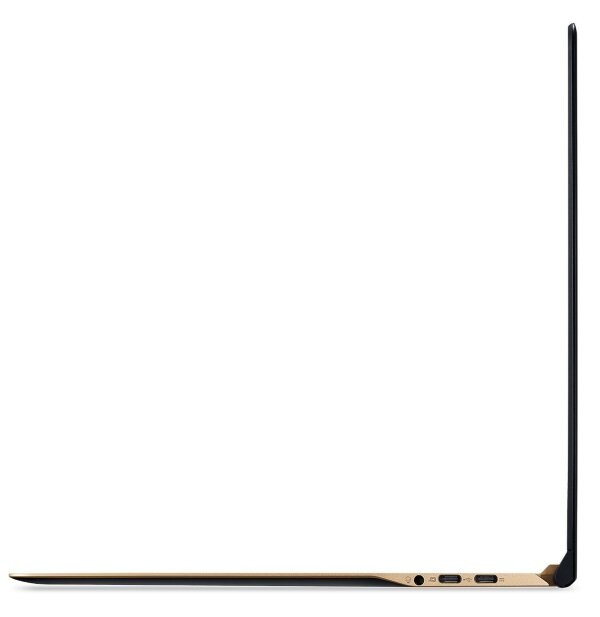 Audio
The Swift 7 doesn't have the loudest speakers, but they're still loud enough to enjoy music without distortion and to watch a movie.
Keyboard & Mouse
There are complaints about the keyboard. They keyboard keys are on the small side and the responsiveness should be better for a premium laptop. It's also probably the only keyboard in this category that isn't backlit.
The extra large touchpad is pretty good, responsive and multi-gestures work well. Apple still is clearly the leader in that field, but the competition – including the Acer Swift 7 – is getting closer and closer.
Other available versions

13.3" HD, Intel i7 with 8 GB of RAM, 256 GB SSD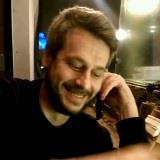 Erik is the owner and main editor of lptps.com. He has been working in computers and information technology for more than 20 years. He's a business analyst, developer, and avid traveler.