As the years go by, we are starting to see things like laptops become smaller, lighter, and thinner. And even as these machines are becoming increasingly compact, they continue to move forward when it comes to things like processing power and what they're capable of. Not all laptops are designed to be compact though. For instance, gaming laptops tend to take up a lot of space for the sake of raw horsepower. Not everyone needs that kind of muscle, though, which is where things like netbooks or mini-laptops come into play. Not only are they very inexpensive, but they still are quite capable when it comes to casual computing tasks like web browsing and using Office/productivity suites.
If you happen to be a budget-conscious consumer who wants a simple machine that can do all of your everyday tasks, you'll find that there are many manufacturers and brands producing mini laptops and are out there competing for your attention. Many of the models mentioned here hover around $400-$700 (sometimes lower) and will offer you a ton of value for your dollar; it used to be the case that cheaper computers were so severely underpowered that they struggled just to run Windows. Nowadays, they tend to perform as smoothly as a hot knife through butter. Still, they each offer their own unique features which we'll briefly go over. So let's stop wasting our time with the intro and see what the best mini laptops in 2014 are.
10. ASUS 1015E-DS03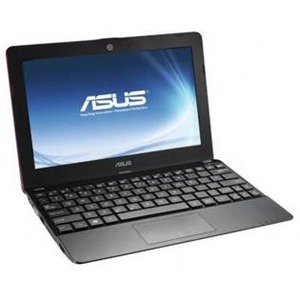 Very similar to its DS01 counterpart, the ASUS 1015E-DS03 laptop is a small machine with a 10.1-inch screen and rather conservative processor. Its most significant difference from the other model, though, is its inclusion of Ubuntu rather than the usual Windows. Ubuntu is a Linux-based operating system designed to be very simple and easy to use, and offers a wide variety of free applications that you can install. But even though it's not Windows, it's every bit as capable with its LibreOffice productivity suite, Firefox web browser, and everything you can install through the Software Center. But besides the included OS, this mini laptop has all the same benefits and drawbacks of the corresponding Windows model, except with a slightly lower price of $229.
9. Samsung Chromebook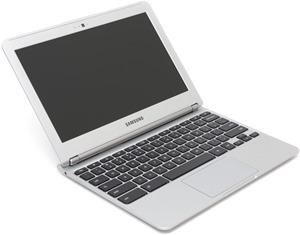 In the realm of both budget computers and alternative operating systems, Samsung has come into the market with their new Chromebook. Like any other Chromebook on the market, it has Google's Chrome OS preinstalled. Chrome OS essentially makes the Web its primary platform for applications and games by making use of their Chrome browser technology. It has an 11.6-inch display, an Exynos 5250 1.7GHz dual-core processor, and 16GB of solid-state storage. There are two different models for either 3G or Wi-Fi, with the 3G model costing about $371 and Wi-Fi about $248. It's a great value if the vast majority of your activities revolve around a web browser. And all in all, it's probably one of the  best mini laptops you can get for such a low price in 2014.
8. Acer Notebook AOD270-1182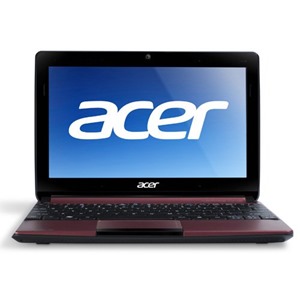 Acer's entry into the budget category comes in the form of the AOD270-1182, a 10.1-inch mini laptop with an Intel Aton N270 1.6GHz processor, 1GB of SDRAM, and Windows 7 Starter preinstalled. Its main downside is that it uses the Starter edition of Windows 7, which can limit how intensely you use the computer. Windows 8 would have been a better choice, especially since this Acer notebook costs $319, about on par with other entry-level Windows 8 laptops. It also has a slightly lowered screen resolution at 1024×600 pixels, which is smaller than 720p. Regardless of the low specs, it will still do basic computing tasks, but you may get more value from other mini-laptops on the market. Still, after looking at its price I think it can be a great mini laptop for people looking for a budget device.
7. ASUS 1015E-DS01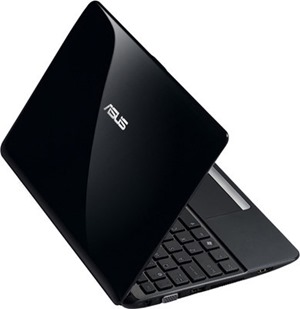 In the budget category, ASUS has more tricks up its sleeve. Their 1015E-DS01 mini-laptop has a 10.1-inch screen, a Celeron 847 1.1GHz processor, 3 USB ports (one of which is USB 3.0), and Windows 8 preinstalled. While it unfortunately lacks a touchscreen, it still offers a lot of value for the price of $295 and is certainly one of the best mini laptops of all time. Its super-compact design means that you can easily take it with you on your travels, and with a weight of around 2.8 pounds it won't put any strain on your muscles either. It also has fantastic battery life with up to 7.5 hours of operation. Overall it's nice if you're looking for a small, humble machine that can do most everyday tasks.
6. Gateway LT41P04u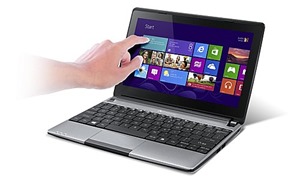 While Gateway isn't the most popular brand of PCs today, they still produce some great performers for a low price. Their new LT41P04u mini laptop features Windows 8, a Celeron N2805 1.46GHz processor, Intel HD graphics, a battery life of up to 5 hours, and a sharp, simple design. All in all, these are pretty standard specs for its price of $329.99, but something that stands out among everything else is the fact that its 10.1-inch screen is also a touchscreen, which complements Windows 8 quite nicely. Touch ability is normally something you wouldn't expect from such a cheap mini laptop, so this is a nice bonus from Gateway.
5. HP Pavilion DM1-4310nr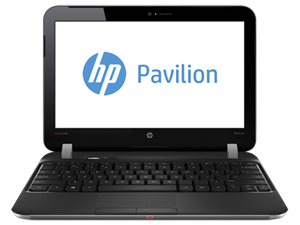 With mini laptops, HP has always offered a nice balance between speed, quality, and cost. Their Pavilion DM1 laptop series has been updated more than once over the years and their latest iteration includes a few nifty features like the AMD E2-1800 APU at 1.7GHz, Windows 8 preinstalled, and Radeon HD 7340 discrete-class graphics. These specs combined with the laptop's slim and lightweight design already makes it worth its price of $399.99. But as icing on the cake, every Pavilion DM1-4310nr also includes two years of free T-Mobile 4G connectivity. This means that for two years, you'll be able to connect your laptop to the Internet no matter where you are, even away from any Wi-fi hotspots.
4. ASUS VivoBook X200CA-DB01T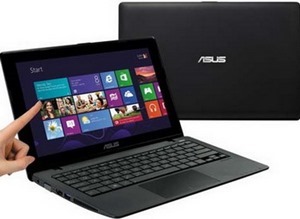 For those who don't desire having tablet/laptop hybrid functionality, ASUS also offers their VivoBook series. The X200CA model includes Windows 8 (freely upgradeable to Windows 8.1) as well as an 11.6-inch touchscreen. The fact that it has a touchscreen is rather novel considering that this mini laptop retails for only $299; its low price makes it one of the best mini laptops you can buy if you're on a tight budget. The hardware isn't exactly the beefiest with a 1.5GHz Intel Celeron 1007U, but for basic functionality like web browsing, watching streaming media such as Netflix or YouTube, or using Microsoft Office, it's more than adequate and will perform quite well.
3. ASUS Transformer Book T100TA-C1-GR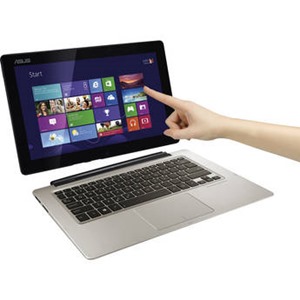 ASUS tends to offer very capable PC hardware at extremely affordable costs. Their new Transformer Book meets and exceeds what you'd expect out of a mini laptop, and is a great example of the recent trend of tablets and laptops starting to converge. Much like the Surface, it can act as both a touchscreen tablet and a small laptop with its included keyboard dock. It comes with Windows 8.1, a 1.86 GHz Intel Atom Z3740, and 64GB of solid state storage. You won't be running any demanding PC games on it, but for its price of $429.99 you can't really go wrong it. Usually, laptops in this price range do not also function as tablets or even have a touchscreen, which makes this Transformer Book a fantastic deal.
2. Apple MacBook Air 11.6-inch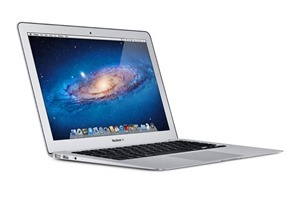 Apple is known for their high-quality and sleekly designed products, and their 11.6-inch MacBook Air is no exception. It's perhaps the thinnest laptop you'll find, coming in at only 0.68 inches and weighing only 2.38 pounds, making it ideal for travel and mobility. It includes a 1.3GHz Core i5 processor and up to 256GB of solid-state storage. Its only disadvantage is the price; it starts at $999 and increases depending on the kind of options that you want. So if you're on a budget this honestly wouldn't be a wise purchase. Otherwise, it's a fantastic laptop with great design, solid build quality, and superb performance. And you simply won't find many laptops that are thinner.
1. Microsoft Surface Pro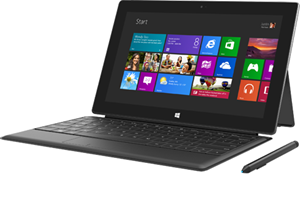 The Surface Pro is Microsoft's vision of what the future of computing should be. Its primary function is being a large tablet with a 10.6-inch touchscreen display. This mini laptop comes preinstalled with Windows 8 Pro, which means that despite it being a tablet, you'll be able to run your existing Windows applications and games with no issue. Even better is that you can use it like a laptop; it includes a keyboard and stand so that you can use your Surface Pro for things like Microsoft Office. All of this, combined with its powerful Intel Core i5 processor and ample set of ports, essentially gives you a full PC with the smallest possible form factor. It retails for $799 and probably is the best mini laptop you can find in 2014.