I've been postponing this Asus UX330UA review for a while now and it's long overdue because I recommend this laptop so often. My current laptop still works perfectly, otherwise I would already have purchased this one!
Why? In one sentence: it's currently one of the best mid-range laptops you can get. Both for Quality & Value.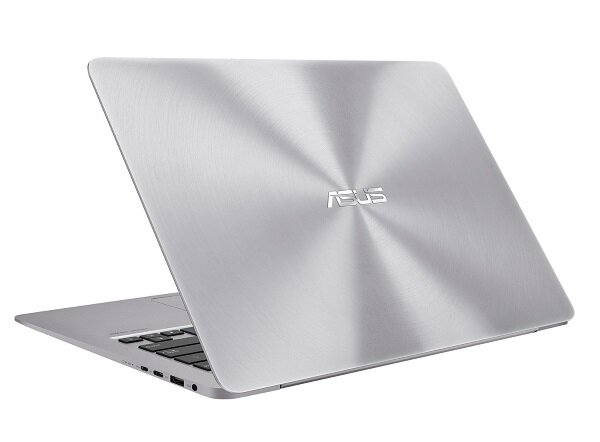 For the Quality, Value & Performance
PROS
Offers one of the best value on the market
Great Screen
Good-looking, quality & solid design
CONS
QUICK SPECS
13-inch QHD (3200 x 1800)
Intel i5 with 8 GB of RAM
256 GB SSD
Up to 12 hours
Windows 10
0.53" thick / 2.65 lbs
Price Range: $$$
Detailed Asus UX330UA Review
The Asus UX330UA is the improved version of the Zenbook UX305UA, a laptop that I liked very much. It's once again a mid-range laptop that is lighter and thinner.
It competes with mid-range & premium notebooks and is in direct competition with laptops like the Dell XPS 13 and the HP Envy 13. It's giving the competition a hard time because it has very few flaws and Asus managed to cut down on the price without sacrificing much.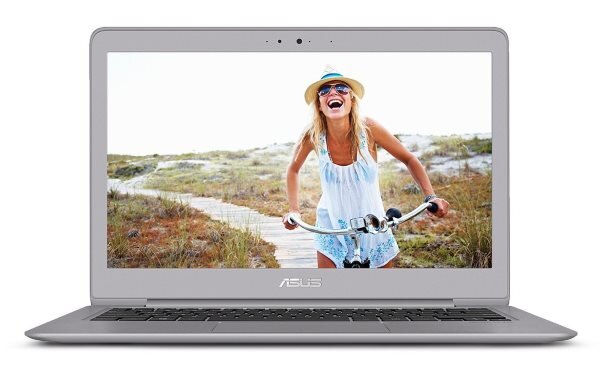 Design
One thing you can say about the Zenbook line is that Asus managed to create a beautiful & quality line of product and the Asus Zenbook UX330UA is no different.
First thing you'll notice when you hold it in your hands is that it has a solid, elegant body. The – mostly – all-aluminium body feels sturdy and you can tell the build quality is good.
The all-aluminium lid is simply gorgeous and really makes it look like a premium laptop. It's definitely an ultra-thin & ultra-light laptop at 0.53″ thick and only 2.65 pounds. That great's portability!
You'll also appreciate the fact that it's mostly silent, unless you ask a lot from it. Also it doesn't overheat which is nice if you often work with your laptop on your lap.
Performance
The Asus UX330UA has the same configuration that most of the competition for a reason, it's the best performance / value ratio for most users.
With its i5 processor and 8 GB of RAM – combined with the SSD hard drive – you can't really ask for more (and probably don't need more).
Also, Asus has put the new generation Intel i5 processor in it. You'll find that CPU in much more expensive laptop and the UX330UA is one of the cheapest to have it.
All that ensures great performance and you shouldn't worry about this aspect, it will perform well in about any conditions (except if you're gaming).
Screen & Graphics
Asus made sure to make this a selling point. After all, the display is really important on a laptop.
(The Asus UX330UA comes with two different displays, HD & QHD, both are as good, but of course the QHD has a better resolution)
This Zenbook is equipped with a 13-inch display that is vibrant, crisp, colorful, and is simply great for that price range. The brightness and color contrast are high and if you're a graphist, you'll appreciate the quality of the display, even for a mid-range laptop. The display is so good it could belong on a much more expensive laptop.
As someone who works often in bright rooms, I like the fact that they've put an anti-glare coating. No more huge shiny spot on the screen.
As for the graphic processor, an Intel HD 520, don't expect to be able to play recent games at high-resolution, it's simply not made for that. But it's also the case for most of the competition, so it doesn't lose points here.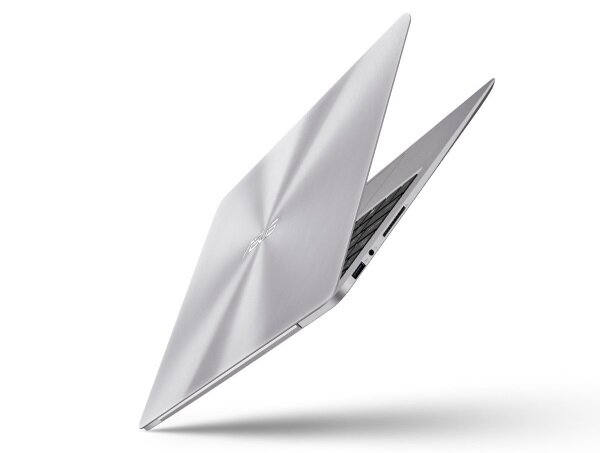 Storage
The fast SSD hard drive is now mandatory in any laptop in that price range and the Asus UX330UA is of course equipped with one. That ensures that Windows and applications load quickly. If you never had an SSD before, you'll be surprised how fast they are!
If I wanted to go technical, I could say that its SSD is in fact slower than some of the competition since they use a different technology. It's true, but that won't make a difference for the great majority of users. So let's just say the SSD drive is fast!
Ports & Connectivity
The Asus UX330UA is well-equipped in terms of ports. You get pretty much everything you need.
2 x USB 3.0
1 x USB-C
1 x micro-HDMI
1 x micro-SDXC card reader
1 x audio jack
1 x webcam
Battery Life
Asus pretend that the Asus Zenbook UX330UA will last up to 12 hours, but they're overstretching it a little (as most laptop manufacturers do). Expect between 6 and 10 hours of battery life, depending on what you do with your laptop.
That's actually pretty good, but just a tad under the competition. Not a big deal, but hey, some of them do have a longer battery life.
Audio
For a laptop that thin, the Asus UX330UA has a very good, strong audio. It's Harmon Kardon speakers will easily fill a large room with crips, loud & clear audio. It's still a laptop, but these are fine speakers for a notebook.
And the included audio software simply increases the audio output and make it sound even better.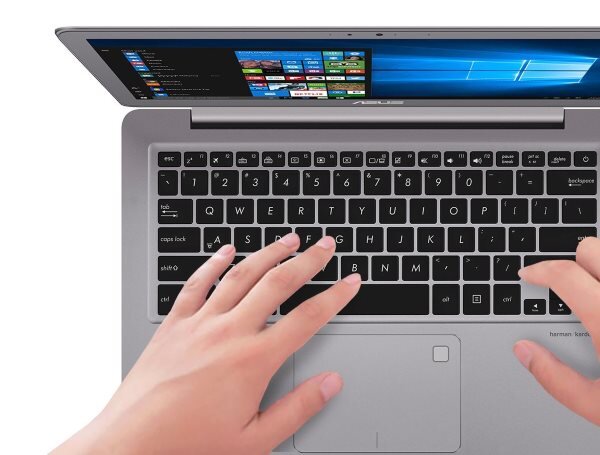 Keyboard & Mouse
I almost always like Asus' keyboards and I feel the same with the UX330UA. It's a responsive keyboard where I feel comfortable typing for hours (as I often do).
Contrarily on its predecessor, they've added a backlit keyboard this time. The 3-levels of back-lighting will allow you to work in complete darkness without the light being annoying. It's a nice feature to have.
It does lose some points on the touchpad thought. It's probably the weakest feature on the Asus UX330UA since it's a little stiff and could be more responsive. But it's not a deal-breaker… nothing is perfect in this world!
Software
The Asus UX330UA comes with Windows 10 and has almost no bloatware (some manufacturers really like those bloatware…)
I find it interesting that in Asus' software package, they've included one for blue light reduction. Something I've been using more and more when working late.
Final word… Asus UX330UA Review
As you could see in this Asus UX330UA review, I really like this 13-inch notebook. It's lightweight, it looks good and delivers a lot of value. Really a good product from Asus.
Other available versions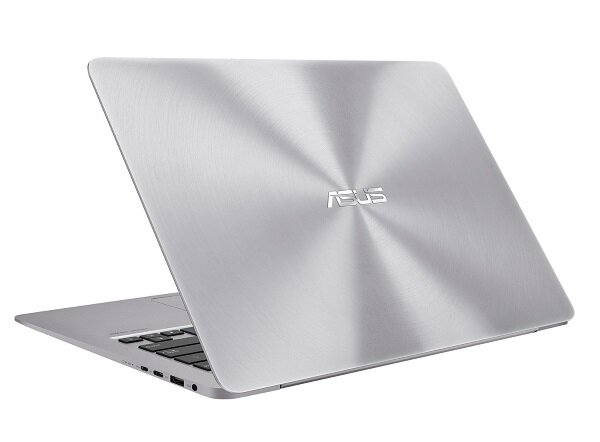 13.3" HD, Intel i5 with 8 GB of RAM, 256 GB SSD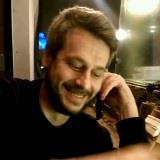 Erik is the owner and main editor of lptps.com. He has been working in computers and information technology for more than 20 years. He's a business analyst, developer, and avid traveler.